10 Youth Volunteer Safety Ideas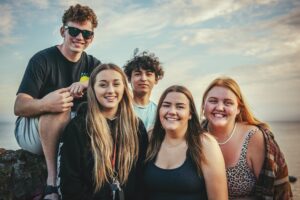 It's no secret finding volunteers has its challenges. Regardless of the type of activity, many organizations are struggling to connect and recruit for fundamental needs. Most leaders prefer to build their volunteer teams through outreach and referrals and create engagement channels that promote long-term participation. However, such activities take time and resources, often in short supply. To address the issue, many are turning towards younger attendees in middle and high school ministries to build a conduit of active and engaged volunteers.
Which begs the question, how do you reconcile an established safety or child protection policy with a much younger recruitment pool?
Here are some thoughts and ideas we've heard from various organizations addressing the issue while keeping safety standards a top priority.
Middle school helpers are some of the best volunteers. There's a form they fill out requiring 2-3 references (not family) to vouch for their character and experience. After approval, they are allowed to be a class helper with toddler and pre-K classes or in the background for events like VBS.
Every youth volunteer must be five years older than the oldest kid in the class. For example, a twelve-year-old can only serve as a helper with children under seven years.
Any youth helper under fifteen needs to have parent permission and a recommendation. They are never in charge of a room and must always be partnered with an adult.
All youth volunteers serve under the supervision of a team of adult volunteers, and we have high expectations for them.
Younger volunteers are considered a third helper in large groups, not a second adult/volunteer. They must provide references, complete training, and are never left alone with kids.
Sixth grade and up can serve as a helper in a room with two adults.
Middle schoolers must serve with a parent. For high schoolers, as long as a parent is on-site in a volunteer capacity, they can partner with an adult other than a parent.
Preteens serving has been a game-changer. The response has been huge and positive. They even challenge their parents to serve.
Teens are encouraged to serve, but always with an adult. They are never alone.
Our policy is ninth grade and up interested in volunteering includes an interview. This doesn't exclude teens but does give us an opportunity to say no if it's not a good fit. Also, they must always serve with an adult.
These leaders have decided that student-led mentoring is an excellent way to build up future volunteers without compromising child safety and by putting forth a concrete policy that prevents and protects. Does your organization have policies that address working with younger volunteers? Please share your thoughts and policy suggestions in the comments.
Click here and join us for a free product demo and learn more about the benefits of using secure children's check-in. Subscribe to the KidCheck Blog or join us on YouTube, Twitter, Facebook, Pinterest, and Instagram.
Photo credit: Photo by Tim Mossholder on Unsplash