KidCheck Keytags – A Custom Branding Option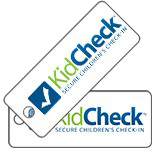 KidCheck understands that you only have one chance to make a good first impression on visiting families. KidCheck custom branding allows you to personalize the KidCheck experience with your logo so your ministry is prominently displayed to everyone checking in and out a child from the secure children's check-in area.
Another way custom branding can be utilized is through the use of barcoded keytags. These tags are similar to those you receive from a grocery store or gym. They allow guardians to quickly scan their keytag at check-in rather than typing in their 10-digit phone number. They can also be utilized during check-out to create a faster more convenient process. Keytags are available for purchase directly from KidCheck at affordable prices and can be either KidCheck branded or customized with your logo printed on the tag.
Please note, it is necessary to have a barcode scanner in order to utilize keytags – scanners can also be purchased through the KidCheck store along with additional hardware such as check-in stations, printers, computers, and carts.
For further information on how to utilize keytags in your ministry see, "How do I register a keytag to a guardian?"