KidCheck Job Opportunities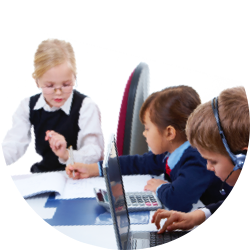 The ideal KidCheck team member portrays a positive attitude along with a kind, helpful spirit. You must be comfortable working with customers who know little about technology to customers who are very tech-comfortable.  This could be your chance to join a company that's known for being innovative, successful, and ahead of the curve.
KidCheck offers competitive salaries and benefits, including a 401(k) plan and paid time off.  Plus the opportunity to work in a supportive team environment, all while helping improve child safety by serving organizations caring for children.
Interested in joining the team in one of the positions below, based in beautiful Boise, Idaho?
Email your resume to info@kidcheck.com. We'll be in touch.
KidCheck Sales Team Member:
In this role, the Sales Team Member will bring the KidCheck experience right into the customer's business. You'll be part of the team that walks our customers through KidCheck's cutting-edge products and shows them the benefit of our advanced technology.  KidCheck is seeking a sales person that demonstrates our software to new customers through a screen share program helping customers understand what KidCheck can do for them.  In all actuality, KidCheck sells itself you just have to show them what we do.
As a Sales Team Member, you'll serve customers through calendared appointments and tasked calls, plus incoming calls on our product, emails, and chat. Although this position requires some technical ability, its real focus is on showing what KidCheck can do for organizations.
Key Roles and Responsibilities
Sell KidCheck monthly subscription and hardware

Assist customers with setting up KidCheck's application on a training appointment

Work assigned daily appointments and tasks on your calendar

Track and report activities through established processes and procedures.
Required Qualifications:
Sales skills

Strong customer service skills

Strong communication skills (written & oral)

Successfully complete a background check

Employee must be able to work 8 am to 5 pm
Desired Qualifications:
2 Years of Sales Experience
KidCheck Support Representative: 
In this role, the Support Team Member helps retain customers while making them even bigger fans of our fantastic product and service.  The team enhances our customers' experience of KidCheck and its culture.
As a Support Team Member, you'll serve customers through incoming calls, emails, and chat. You'll also help with support documentation and other assigned duties. Although this position requires some technical ability, it's real focus is on serving customers well.
Required Qualifications:
Strong customer service skills

Strong communication skills (written & oral)

The ability to teach others and learn
Willingness to be on the phone a portion of the day (we're not a call center, but we do periodically log a good amount of phone time)

Successfully complete a background check

Work hours for this role are four days a week 8 am to 5 pm, and  four hours Sunday morning