Building A Healthier Kids Club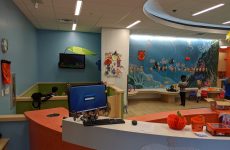 Families Welcome
Gainesville Health and Fitness (GHF) is a multi-faceted fitness facility in Gainesville, Florida. They utilize KidCheck secure children's check-in as a performance tool in their Kids Club area to improve child safety, expand operations through stronger data management, and increase performance by optimizing metrics such as efficiency, budget, and programming.
GHF focuses on more than just wellness. They strive to provide a higher quality of life by connecting people with the latest health-technology innovations and services. Their goal is to provide an inclusive place for everyone, including those with children. In fact, GHF is the only fitness facility in Gainesville to offer free childcare to both parents and grandparents.
Three Locations, One Purpose
GHF has three Kids Club centers that are all unique and support kids from six weeks to twelve years old, so at any given time, the needs will vary. There is the main center, which is the largest, serves the most children, and offers numerous Fit Kids classes inside the Kids Club area. A Tioga Center which has an outdoor area connected directly to the Kids Club and is home to their CrossFit for Kid's program. Plus a Women's Center that caters exclusively to women and offers a variety of kids classes as well.
Included In Every Membership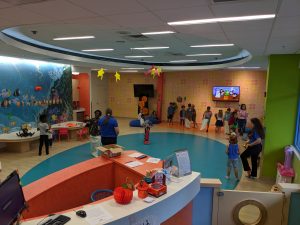 GHF complimentary child care is just the start of what they offer for kids and families. With every membership, children get access to Kids Club, a fun, active, creative space where they can hang out, have the option to register for monthly themed parties, and Fit Kids classes such as CrossFit Kids. Kids Club staff is trained specifically to provide a caring and educational environment that promotes health and wellness for children. GHF has always been a place for everyone to gather, but over the years, they've seen supplementary growth with families interested in additional activity options for their kids.
Per Alyssa Hines, the GHF Kids Club Director, "As an organization we've always said, bring your family, and let's have everyone work out together. Families love being together, so we offer fitness classes and activities through our Kids Club that are engaging and build on the whole experience, which creates more happiness and loyalty. That's our goal."
A Healthy Transition
Before implementing an electronic children's check-in system, GHF was operating a home-grown software program for member sign-in and a manual pen and paper process with handwritten name tags for children's check-in. Hines states, "While helpful, these processes were disconnected, required a lot of manual intervention from staff and families, collected only basic children's information, and missed the mark on helping me to strategically manage the Kids Club program."
Another key consideration of implementing a secure children's check-in solution is the transition to a new system for staff and families. Fitness facilities are busy, especially during peak times so the system had to be easy for staff to learn and intuitive enough for families to want to engage.
Hines shares, "Once I heard about KidCheck, everything changed. I started doing research and spoke with the prior Kids Club Director about electronic check-in. Once I learned more, I knew we must have it, and it was non-negotiable."
Check-In Does the Heavy Lifting
Safety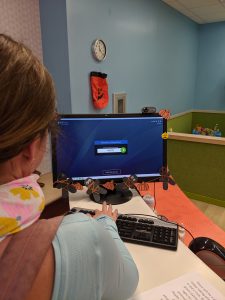 "Our number one goal is to have a safe and secure environment for the children," states Hines. It's no secret that offering childcare to members creates loyalty and increases retention. Nevertheless, offering childcare comes with risks and liabilities. Today parents are safety savvy and constantly pay attention to the quality of care, existing safety procedures, and emergency response for health management issues.
Hines says, "KidCheck's unique matching security codes, authorized guardians, and the optional pin number that parents can use are my favorite features and parents love them too. These features make us feel safer, but also demonstrate to parents that we prioritize child safety, which makes them more  comfortable leaving their children with us in the Kids Club."
The KidCheck solution is built on a platform of security that parents get to see first-hand. Simply providing attendance tracking is not enough to ensure a positive perception. Parents or guardians want to see and participate in the process of improving child safety.
Data Management
Organizations need quick, easy access to key data to better understand trends, speed up the decision-making process, and provide leadership with financial information for analysis. GHF has strategic objectives and specific goals each area strives to accomplish each year, and leaders are responsible for the action steps to meet those goals. KidCheck's comprehensive reports library provided GHF with overall statistics, graphical charts, numerous attendance reports, check-in logs, roster reports, bulk mail capabilities, and reports on billing, health management, and more.
Hines, takes full advantage of the data management capabilities and has received several benefits. "KidCheck has helped reduce the time needed for making financial decisions. When I need to make a purchasing decision around check-in for Kids Club, I can easily pull numbers to show any increase in traffic to support the need."
Hines continues, "Also, I've been able to improve my staffing schedule, save money, and redirect funds to meet other needs, because, with KidCheck, I'm able to track numbers hourly on different days for three separate locations. This is something I wouldn't have been able to do if I didn't have easy access to the data I need."
Performance Improvement & Better Efficiency
GHF is always looking for ways to improve and expand on the services they deliver through better efficiency and control. "With KidCheck, the efficiency is fantastic and reduces stress points for our guests and for us. Having the ability to see metrics in one place for three centers, real-time, and knowing they are accurate is amazing," comments Hines.
In addition to efficiency, connecting and communicating with families and staff is an important part of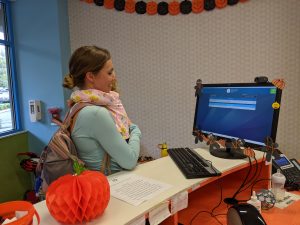 long term retention. GHF uses KidCheck Event Registration to streamline the communication process with families. They send an event calendar and newsletter through the bulk email function, which links families to upcoming kid's fitness classes, events, and themed parties for all three locations. The result is an increase in family engagement, growth in popularity of the monthly activity schedule, and improvements to the daily operations such as better visibility to traffic flow, and improved coordination of staffing levels. Hines shares, "Special themed days are different each month and they have helped us drive an increase in traffic, which means more new members. This is something we wouldn't have been able to offer if we didn't have the information from KidCheck to fine-tune the schedule, which freed up dollars to support the events."
Results That Matter
For GHF, KidCheck's secure children's check-in solution has delivered more than simply tracking attendance. They've realized the benefits of leveraging the power of technology to improve the competency of their fitness business, while continuing to keep the focus on families. As GHF steps into the future, their goal is to continue to provide families with a best-in-class Kids Club program, while striving for improvement in daily operations and prioritizing child protection and safety.
Hines sums it up, "In the beginning, I had a lot of questions about the benefits of check-in, but KidCheck addressed them all. There are so many amazing features in KidCheck that will make your life ten times easier. It's crazy the amount of time and money I have been able to free up and use to focus on making our Kids Club the best it can be. I would 1000% recommend using KidCheck, and so would our families."