Taking Children's Check-In to the Next Level
Taking Check-In to the Next Level:  Athey Creek Christian Fellowship
Secure. Effective. Robust. Easy-to-Use. These are some of the words that James Shields, Children's Pastor at Athey Creek Christian Fellowship, in Wilsonville, Oregon uses to describe KidCheck's secure children's check-in solutions.
Per Shields, "KidCheck is a great value. It's an efficient, cost effective solution. After researching various children's check-in options out there, we found KidCheck to have not only exactly what we were looking for, but their solution takes security and efficiency to a whole other level. I am extremely satisfied with KidCheck."
A New Way to Do Check-In
Prior to implementing KidCheck, Athey Creek Fellowship used a system based on wristbands and manual sign in sheets for their children's check-in. However, it was inefficient, difficult for tracking and reporting, less secure; and with constantly having to replace wristbands, more costly. Additionally, they had problems with rashes caused by the wristbands.
With his tech background, having worked at Intel for 12 years, Shields had high expectations for KidCheck's feature set and capabilities. Shields feels KidCheck is a more efficient and cost effective solution than their previous pen and paper and wristband process. "When we looked into implementing KidCheck, we did the math as you can imagine. It's very robust, and we are happy with the cost of KidCheck and what it delivers. It's a great value, it really is."
Increased Security and Peace-of-Mind
Just as it is for most churches and organizations caring for children, security is a top priority for Athey Creek Fellowship. As Shields points out, implementing a children's check-in system is not just about the physical security of the children, but also the peace-of-mind it provides for parents, and the ability it gives Athey Creek to focus on ministry.
"It gives us and the parents a lot of peace-of-mind. They know where their kids are. They know no one else can check them out. We immediately know if someone who is not authorized tries to pick up a child. Parents appreciate the added level of security we've implemented with KidCheck," said Shields.
As for the Athey Creek staff, "It allows us to focus our time and energy on what we are here to do, and to do it better. We're here to teach the bible to children and to help people grow closer to Jesus. Not having distractions about security enhances our ability to do so. KidCheck is a robust, secure system that makes our families feel safe and comfortable as they worship God and have their kids ministered to. We are really happy about that!"
Improved Efficiency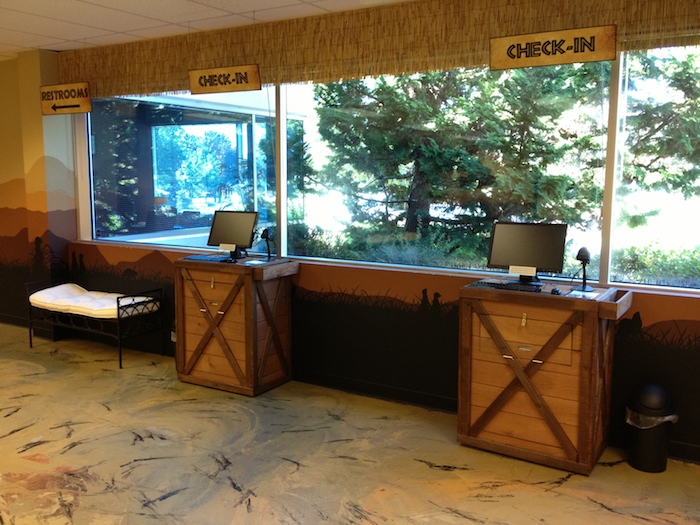 Easy access to usable information is extremely important to be effective, make good decisions, and save valuable time.
"KidCheck allows me to quickly and easily access information in a way that's usable. Now I can look at how much staff I have, where my needs are, where my kids are, where growth spurts are, and when certain ages and classrooms have bigger numbers than others and may be understaffed. I can quickly see the information and easily understand what's happening."
Shields continued, "When questions arise, whether it's at a pastor's meeting, or something I noticed on a given Sunday; I can immediately zero in on it and have at my fingertips the data I need to address it. No extra research, no needing to wait. KidCheck allows us to better handle and address concerns and needs compared to the manual system we were using."
Partnering with Parents
One of KidCheck's unique features is the parent maintained accounts. This provides multiple benefits for both the organization using KidCheck and their members. Parents create free KidCheck accounts from the comfort of home, or any place with an internet connection. They input all necessary information about themselves, their children and authorized or unauthorized guardians, including pictures.
"The parent maintained accounts have really saved me time and work," stated Shields. "It's a huge factor for us to have the parents own their accounts, manage them and keep them updated. It's way more efficient and saves us a great deal of time inputting data and trying to keep it current."
When they first switched to KidCheck, Athey Creek Fellowship both encouraged parents to create their KidCheck account at home prior to roll out and set up some additional workstations at the church for people to use when they came in.
Regarding the parents, Shields notes, "They understand the role the accounts play in improving security for their children. Setting up their own accounts is great so they don't have us asking questions, following up, or requesting they fill out forms. They love that they own their account and that nobody else goes in there and changes or edits their information. "
Free Training and Support
Every KidCheck customer receives free personal training and support, starting with an initial in-depth training session geared just to their needs when they become a customer, and then any other time it's needed. Not only did Shields find the training to be beneficial, he thinks very highly of KidCheck's service and support capabilities as well.
"The free training was great! While the system is intuitive and easy to use, it helped us understand the ins and outs and many features, as well as ensuring we were set-up correctly and ready to go. Regarding overall service and support, you can't anticipate the times you'll need help. Questions arise and sometimes it happens during a service. With KidCheck I know I can contact somebody right then and can be confident an actual person will pick up – someone that is knowledgeable and willing to help. KidCheck service and support really shines."
Additionally, he likes that there are multiple options to obtain support. "Just like here in our ministry, there's not one way for people to learn. I like that KidCheck offers multiple support options. Whether it's through the website, referencing tutorials or Q&A's, the informative newsletter, the chat feature, or simply making a call; I can get the help I need."
Athey Creek Approves
"I would and do recommend KidCheck," states Shields. "KidCheck has a great reputation and works with a lot of churches across the country. Whether you are trying to save money, looking for more security, or want to drive efficiency, KidCheck has really done their homework and delivers a robust solution. It allows us to track and manage our whole kid's ministry. I love KidCheck – they are a pleasure to work with and have been very supportive."