Check Out Receipt Texts
Convenient, secure, fast, paperless check out for guardians and organizations!
How it Works: When the child is checked in, a link to a unique digital check-out receipt and QR code is automatically texted to the parent/guardian. Then, to complete a secure check-out, simply scan the code on their phone with a 2D barcode scanner, or do a visual security code verification.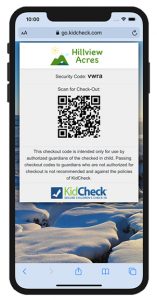 Convenient – The child and guardian check-out validation is all right there on the parent's smartphone. Also, if someone else is picking up the child, they too can receive a text with the link to the digital check-out receipt.
Secure – Each check-out receipt text has a unique security code for that family's check in. Liability is even further reduced as the receipt is only available on the authorized guardian's smartphone. Plus, this helps easily ensure proper verification and accurate reporting.
Fast and Easy – Foolproof for your staff. No need to match tags, look up codes, or check IDs. Rather than using a printed guardian receipt or electronic receipt in the mobile app, it's instantly available to simply scan from the parent's phone.
Tutorial: Check Out Receipt Texts