Check-Out Receipt Texts
With Check-Out Receipt Texts, a link to a unique digital check-out receipt and QR code is automatically texted to the parent/guardian. Then, to complete a secure check-out, simply scan the code on their phone with a 2D barcode scanner, tablet camera, or do a visual security code verification.
Enabling Check-Out Receipt Text:
As an Administrator, sign into your KidCheck account at go.kidcheck.com
Select System Settings gear icon in the upper right corner
Select System Options on the left-hand side menu
In the same side menu, select Check-In Options
Under the Send Guardian Receipts by Text Message option is a drop-down menu where you choose what Campus, Templates, and/or Locations to enable this feature for (Pictured Below)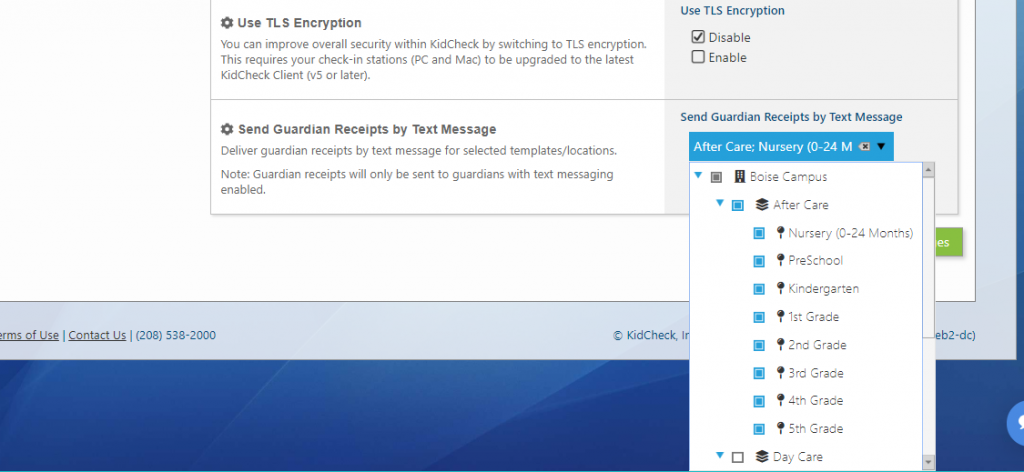 How To Check-Out With Receipt Texts
1. Visual Check-Out
You can use the guardian's check-out receipt text to visually verify the security code to the same way as with a printed Guardian Receipt. The security code will match the child's name badge security code as well as be listed in the Admin Console next to the child's name.
2. Check-Out at Station
For improved record keeping and overall security you can scan the QR code in the guardian's check-out receipt text. You can scan from a computer check-in/out station using the KidCheck 2D Barcode Scanner or from a tablet check-in/out station with the tablet's built in camera.
Have parent open link that was texted to them on their smart phone
Link will open the Check-Out Receipt
Scan QR Code with 2D Scanner or on a tablet select the "Camera" button and scan QR Code
Visually confirm guardian's profile and the children they are checking out on screen
Select the green submit button to process check-out for selected children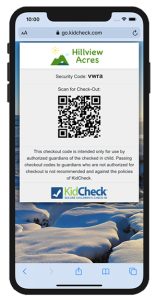 3. Admin Console Check-Out
You can also use the Admin Console to individually check-out the children by scanning the QR code on the guardian's Check-Out Receipt Text. This can be done with either a computer and 2D Scanner, tablet, or smartphone running the Admin Console App.
Start the KidCheck Admin Console on the computer, tablet, or smartphone
Select the child you want to check-out, this will pull up their "Detail Look Up"
Select the green "Check-Out" option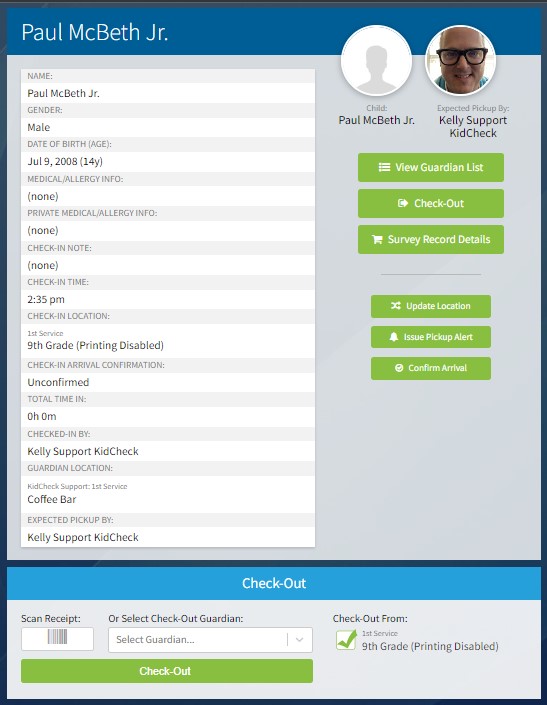 What Happens If A Parent Didn't Receive Check-Out Receipt Text?
If a parent didn't received their Guardian Receipt Check-Out Text you can always resend the text through the Admin Console.
To Resend Guardian Check-Out Receipt Text:
Log into Admin Console
Select child to be checked out
Scroll down to the Guardian List
Select the present guardian
Select "Resend" under the Guardian Receipt Text Message area