Mobile Check-In On a Whole New Level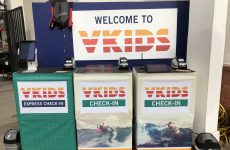 Facilities caring for children frequently include a child check-in process to keep the kids in their care safe. These processes range from the use of pen and paper to an electronic system with kiosks, a dedicated check-in area, or mobile equipment. Organizations are regularly expected to expand past these initial check-in offerings, to support new growth and keep current, tech-savvy families engaged.
As Dee Cobia at Vintage Church Los Angeles explains, "Children's check-in is the front door to your organization and has a huge impact on a new family's decision to return. Directors need to know that people don't typically return if they've had a bad check-in experience. It's a deal breaker."
Even with a check-in process in place, challenges can still exist including congestion and long check-in lines, a lack of efficiency, and parents who are frustrated or simply won't engage in the check-in process.
A check-in system can be less efficient when it's tied only to a fixed station. Incorporating a mobile component, which allows parents to check children in with their own device, along with the traditional setup creates an increase in flexibility, efficiency, and time available to connect with new and returning families.
The Express Check-In Solution
KidCheck Express Check-In allows parents to start check-in on their mobile device from home, the car, the parking lot or wherever there's an internet or cellular data connection. When a family arrives, they simply tap the 'submit' button to complete check-in. The PrintHub Express immediately recognizes the check-in and prints the labels. It's fast affordable and solves many of the challenges organizations experience today.
Congestion – It's Not My Jam
During peak times, organizations often face a backlog of families trying to check-in. This congestion occurs due to issues ranging from facility design to a lack of physical systems to accommodate the influx of families, or simply many families showing up all at once. Whatever the challenge, bottlenecks happen.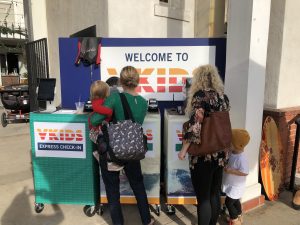 Steve West shares how Express Check-In helped alleviate the challenge at Calvary Chapel Golden Springs. Per West, "Express Check-In streamlined our process. Parents don't wait in lines; they're able to start check-in wherever they're at." Meghan Hone of Concord Street Church of Christ agrees, "Check-in lines used to get bogged down with first-time visitors, or those less tech-savvy; Express Check-In completely removed the bottleneck." She continues, "Now everyone is able to just zip right on through children's check-in."
Cobia has seen the same benefit. She comments, "Before Express Check-In people were frustrated with lines at check-in. It wasn't efficient. Now there's never a line." Lindsay Kuhl with Nampa First Church of the Nazarene has a similar experience, "With Express Check-In things move at a steady stream and check-in runs so much more smoothly."
Parent Experience – It's What Counts
Families are busy, and parents take the brunt of responsibility for getting their children ready to go and out the door promptly. For most families, the craziness often raises the anxiety levels and lowers tolerance for delays. By providing a mobile check-in process that's easy to follow, quick, and initiated at a time that is convenient for them, parent satisfaction increases and and the burden of feeling short on time lessens. Organizations using KidCheck Express Check-In can attest to this.
Kuhl sums it up, "Parents love that they can start check-in from the comfort of home, and then be ready to go when they walk in the door. They love that Express Check-In is so convenient, simple and easy-to-use." Cobia agrees, "Our member check-in is more efficient and fast with Express, and we've seen a measurable increase in parent satisfaction."
Hone explains why parents love it, "Express is fantastic! Start at home, hit submit when you arrive, and stickers are printing by the time you get in the door."
West has also seen improvements, stating, "Parents using Express Check-In love they can walk in, look at the line, and just go right by to pick up their guardian receipts." He's heard about the increased satisfaction first hand. A parent shared with him, "Wow! I walked into the building, finished check-in and my labels printed – it was that easy."
Julia Berger with Christ the King Mount Vernon also received parent feedback. She says, "I had one parent jumping up and down with their phone saying, 'This is so cool, no more lines, and I can even print labels from my phone.'"
Efficiency – The Reward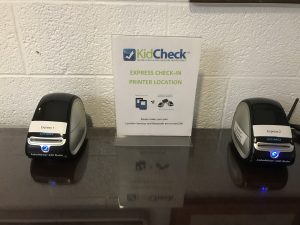 Efficiency means doing things the right way, achieving more with less, or utilizing what you have differently to achieve a better outcome. Express Check-In not only increases efficiency but also creates a more effective use of resources.
Per Berger, "With Express Check-In, we have more time to do what we are called to do – connect with new families and develop stronger relationships with existing ones." Kuhl agrees, "Express has truly simplified and streamlined our check-in process and made it more efficient. It has freed up our time to interact more with families."
West's experience is similar," Express helped with congestion, is much quicker and increased efficiency."
Cobia also touches on the administrative and cost benefits. She states, "Express Check-In not only reduces the time during check-in, but it also saves administrative time as parents are more involved in controlling their KidCheck account, which means they're keeping the information up-to-date, so we don't have to." She continues, "The cost efficiency with Express Check-In happens because the equipment investment is lower. Plus, it's expandable, easy to set-up and it's never gone down."
Bringing It All Together
Incorporating mobile into the current check-in process is easy. KidCheck Express Check-In is fast and seamless for both families and organizations. Reduce check-in lines, increase parent satisfaction, and improve efficiency. Give families the ability to check-in when, where, and how they prefer.
Learn more about Express Check-In.