Admin Console
Fast, easy, convenient.
All KidCheck administrators have access to the Admin Console and Admin Console App to use on a computer or mobile device, providing unlimited administrative system access. No need to use a check-in station to easily handle important administrative functions. Take care of administrative tasks where it's most convenient for you – on a computer or mobile device – in the check-in area, office, classroom, lobby, or other area.
Administrative tasks include: manage room capacity, check security codes, send emergency text messages to parents, text workers, change locations if a child was checked in incorrectly, process a child pick-up alert, view authorized and unauthorized guardians and more.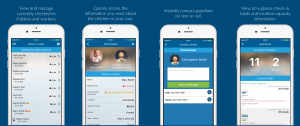 Plus the Admin Console App provides even more benefits for classroom use as it's easily downloaded to an administrator's mobile device, has the ability to complete check-out for children and volunteer/workers, and with its real time attendance data provides direct access to a 'live list' of checked-in children for easy reference even outside the facility in case of emergency evacuation or fire drill.
Watch this short Admin Console App video to see it in action!