KidCheck Introduces Admin Console App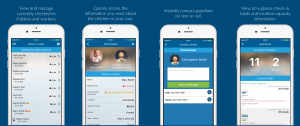 The KidCheck Admin Console that you know and love is now available via a mobile app, putting all the important data at your fingertips, making it faster and easier to use.
With the new KidCheck Admin Console app, there's no need to use a check-in station or web browser to handle important tasks. Having all the information readily accessible frees you up to focus on the more important duties of the day, which are connecting with families, and serving their kids.
By using the new KidCheck Admin Console app you'll not only see a reduction in your workload, but also increased classroom efficiency, stronger child security, and quicker parent and/or guardian communication. For more details on these benefits see the items below.
Easy and Efficient Classroom Use – By using your mobile device in the classroom, you can quickly access important information such as seeing which children are checked in, see if there's a birthday or medical/allergy icon for any kids, issue child pick-up alerts, move child or volunteer/worker locations and process check-out. Volunteers/workers can be checked out in the app too.
Stronger Child Security – For emergencies, evacuations or fire drills having direct access to a list of children checked-in enables you to respond faster to any incidents. With the ability to update attendance in real time you have a 'live roster' of who is checked in. You will also be able to see at-a-glance authorized and unauthorized guardians, this ensures safe check-outs.
Faster Parent Communication – Quickly and easily text or call parents (or volunteers/staff) right from your mobile device through the app. This is an important feature if you need clarifying information on a child or direct access to the parent in case of an emergency.
As you can see, the benefits of using the KidCheck Admin Console app are huge! With the rise in the demand for mobility coupled with the importance of child security, the Admin Console app offers a solution that's easy to implement, provides strong security features, and delivers additional flexibility.
Data available in the Admin Console app remains highly secure with only KidCheck Administrator, Start/Stop, and Campus Manager roles having access.
KidCheck's Admin Console app is available to download from the Apple App Store or Google Play Store for free. We'll continue to make additions and improvements to the app.
Click here to learn more about KidCheck's mobile solutions or join our growing community on Twitter, Facebook, Google+ or Pinterest.