Mobile Check-In
Mobile check-in options include Express Check-In and Mobile Check-In Station providing added flexibility and convenience to your children's check-in process.
Express Check-In
Parents check-in using their own mobile device!
Parents can start check-in from home, their car, the parking lot, wherever there's an internet or data connection. Child name badges and guardian receipts are prompted to print when they arrive at the facility. No waiting in line, no check-in station, no intervention needed from your organization.
Learn more about Express Check-In
Express Check-In with the KidCheck ExpressHub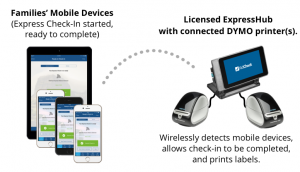 Mobile Check-In Station
Use a mobile device to check families in at your facility!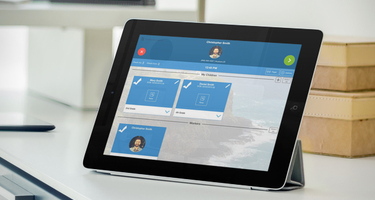 Added flexibility and convenience, short check-in lines, and a personal touch. Easily and quickly check families in with an iPhone, iPad or Android tablet set up as the check-in station, or with volunteers walking around with the device.
It simply needs a check-in license on the mobile device, plus a KidCheck ExpressHub, or Mac/Windows based computer, with DYMO printer for label printing.
Mobile Check-In Stations with
the KidCheck ExpressHub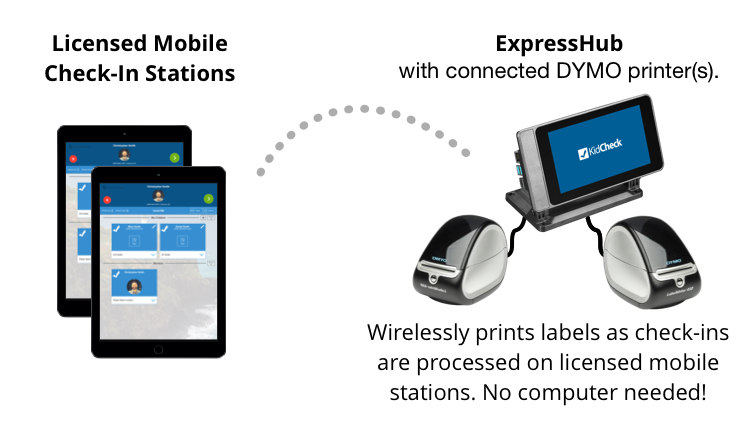 Mobile Check-In Stations with
Computer-Based Printers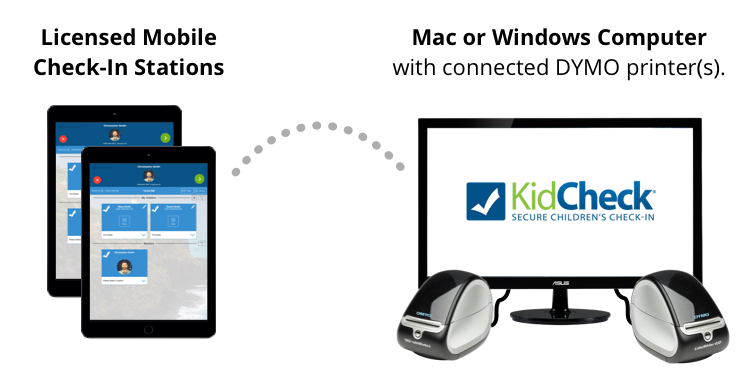 ---
KidCheck's Mobile App and Admin Console App are available for download from:
Apple, the Apple logo, and iPad are trademarks of Apple Inc., registered in the U.S. and other countries. App Store is a service mark of Apple Inc.   Android is a trademark of Google Inc  Google Play is a trademark of Google Inc.