Text Messaging Benefits
Text messaging is a fast, easy, and private way to communication with parents, and it can be quickly done right from the Admin Console or Admin Console App. No need to use a check-in station.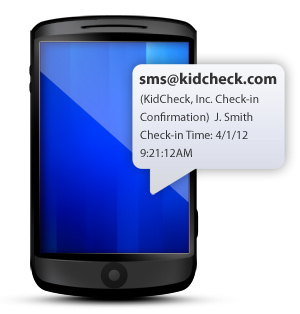 Give parents peace of mind with the automatic "child is checked in/out" message when another authorized guardian drops off or picks up a child. Other guardians will have confirmation their child arrived safely and won't be left wondering if a child has been picked up. Parents choose if they'd like to receive text message or not and for which activity.
Quickly let them know about an issue, need, or emergency – right from the KidCheck system.
Texting is more personal, private and informative than having their "number" show up on the public reader board or having their pager go off. Parents appreciate the extra information with a text versus page so they know what the issue is.
Text messaging saves you time and energy and it's so easy to do, plus it's cheaper than using pagers.
Broadcast text messaging provides added convenience allowing you to communicate to a group of parents or volunteers/employees to easily get the word out in one fell swoop.
Tutorials