Individual Text Messaging
Text messaging makes communicating with guardians, volunteers and employees fast, easy, inexpensive and private. Guardians can elect to receive text message notifications when their children check in and out giving them additional peace of mind (this is especially helpful if a different authorized guardian is taking care of their child). As an administrator, you can also send both individual and broadcast text messages through KidCheck.
 To send a text message to a guardian:
If the child is currently checked in, use the Admin Console:
Using the App: 
We have released an Admin Console for iOS (which you can get from the Apple Store) and Android (which you can get from the google play store) smartphones. This is a great tool for administrators to access guardian's information and emergency text messaging right on their phone.
Launch the Kidcheck Admin Console app on your mobile device
It will launch showing the Admin Console Main Menu

Choose the Admin Console option from the Main Menu

The Admin Console will appear with the list of kids checked in

Click on the name of the kid and it will show you the Child Detail
Scroll down to show the Guardian List
Click on the guardian you would like to send  a message to
Enter your message from the Text feature offered (Admin Console App > Choose Child > Child Details > Guardian > Text), and click Send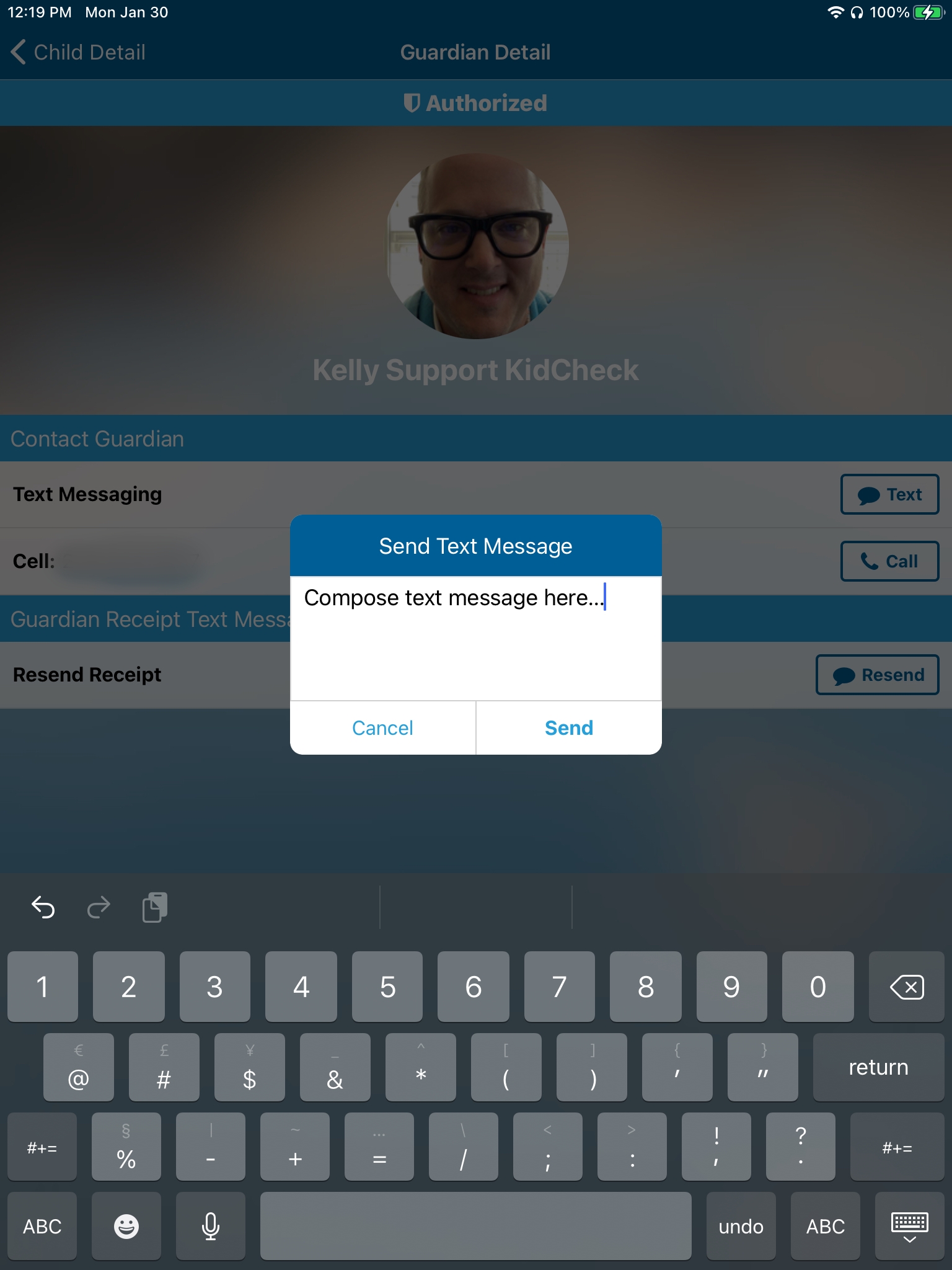 Using the Website: 
Access a child's Account Detail Lookup Page via the Admin Console. Either:

Scan the child's name badge at a Staff Attended Check-in Station,
Access the Admin Console via the graph icon at the top right-hand corner of the check-in screen and click on the name of the child, or
Access the Admin Console by logging into KidCheck as an Admin and going to the Check-in tab > Utilities tab > select the Start button for the Admin Console (on Plus and Premier editions):

Locate the guardian under the Guardian List section (if accessing the Admin Console from Check-in)
Enter your message in the text box next to the parent you'd like to message, and click Send Message
Click on the checkbox icon in the upper right to return to check-in mode (if accessing the Admin Console from Check-in)

Send an individual text message from the People tab:
Sign in to your administrative KidCheck account
Click on the People tab
Search for (and select) the individual to message
Click on the Text Messaging option in the Edit KidCheck Account pane
Compose the message in the Send a Text Message box and click Send Message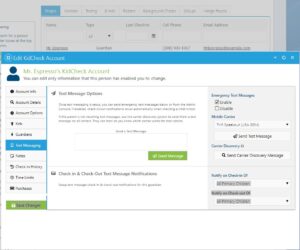 Also see:
Broadcast text messaging tutorial
Text messaging benefits