National Child Abuse Prevention Month Safety Resources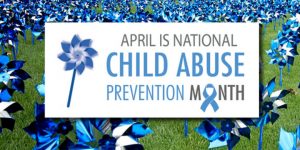 In honor of April being National Child Abuse Prevention Month, we'd like to share some warning signs, tips, and resources (links at the end) to help your organization take child protection to the highest level.
Warning Signs for Adults and Older Children
Showing too much interest in a child or singling them out from the others
Giving gifts to a child, and no one else
Participating in inappropriate games that include wrestling, tickling or inappropriate touch
Encouraging children to sit on their lap for any length of time
Secret sharing or trying to spend time together away from others
Excessive texting or online activity that doesn't include others and is without parental consent
Abuse Prevention Tips
Always have updated policies & guidelines in place and communicate them often to staff, volunteers, and administration.
Ensure a child is never alone with one adult. Establish the "Rule of 2's" (minimum two kids and two adults) when moving kids or taking them to the restroom.
Evaluate the physical environment of each room, open hidden areas & secure private spaces. Make it impossible for an adult to be alone or out of sight with a child.
Never allow children to be unattended in a facility, small group, or offsite activity; this will prevent peer on peer abuse. Even the children of teachers, pastors, volunteers, or staff need supervision.
Establish comprehensive screening policies for volunteers, staff, or any individual coming into direct contact with children.
Create boundaries and communicate everyone's right to privacy during quiet times, bathroom breaks, and personal activities. Make sure children understand that their "no" means "no" and will be respected.
Teach about good touch vs. bad touch. Children should know the difference when dealing with safe adults and people they interact with daily. It's helpful if children understand the correct anatomical names for their body parts, making incident communication more transparent.
Explain the difference between children keeping secrets and sharing surprises. Secrets exclude others and can make children unsafe. Surprises generate excitement and are revealed in a short amount of time. Make sure children understand it's never okay for an adult to ask a child to keep a secret.
Resource Links
To learn more about our secure child check-in products, safety tips, and best practices, visit the  KidCheck blog or connect with our growing online community on Twitter, Facebook, Instagram, or Pinterest.