8 Ways to Get Involved with Abuse Prevention Month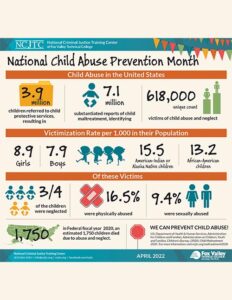 According to childwelfare.gov, National Child Abuse Prevention Month (NCAPM) recognizes the importance of families and communities working together to strengthen families to prevent child abuse and neglect.
During April, this prevention program centers on related activities to reduce risk factors and build up protective factors for families, decreasing abuse or neglect cases. These activities include education, problem identification, referral programs, community involvement, environmental strategies, and evidence-based practices.
NCAPM is also an excellent time to recognize the efforts of those who support children, work to strengthen families, and keep kids safe and unharmed all year long. We can do this by finding ways to participate and raise awareness.
Here are eight ways to get involved.
Educate – Both yourself and your organization. Learn to recognize signs of abuse. Implement strategies that minimize the opportunity for abuse. Understand what the landscape looks like and become familiar with some national statistics.
1 in 4 girls are sexually abused by the time they turn 18 years old
1 in 5 boys are sexually abused by the time they turn 18 years old
5 children die every day from child abuse
The highest rate of child abuse is in children under age one
8% of all child fatalities were younger than 3 years old
6% of child victims are maltreated by one or both parents
Volunteer – You can make a significant contribution by giving time and effort. Attend local meetings such as city council, school boards, or parent education workshops. Express a desire to increase community support, develop education initiatives, and raise awareness for accessible services. You can volunteer in person or online and share information with family, neighbors, and others in your sphere of influence.
Give Financially – If you cannot give your time, consider financially supporting organizations that actively work to reduce child abuse or initiatives that raise awareness and provide ongoing resources.
Utilize Social Media – Many individuals and organizations are active on one or more channels on social media. Use your platforms to get the word out. Share resources and help educate others.
Wear Blue – During April, wear blue to let others know you support the prevention of child abuse and neglect, and you are committed to giving hope to children and families.
Be Prepared – Have a plan in place for your organization to respond to abuse. Staff and volunteers should know what to report, when, and how to report. If additional help is needed, contact the National Child Abuse Hotline at 1.800.422.4453 or visit childhelp.org. All communication is confidential.
Report – If you suspect a child is being abused or neglected, take the needed steps to report. Call 911 if there is an emergency. Check your state laws to understand the role of a mandatory reporter and what local resources are available for reporting child abuse or neglect.
Give Thanks – Working to reduce childhood abuse and neglect is difficult. If you know someone or are involved with an organization that supports these efforts, make sure to say thank you. Thanks, can be anything from a handwritten note to a gift card or staff lunch. Be creative. Everyone appreciates the recognition.
Subscribe to the KidCheck blog or join us on YouTube, Twitter, Facebook, Pinterest, and Instagram for more child safety resources.
Sources: