Seven Steps to Start an Annual Safety Survey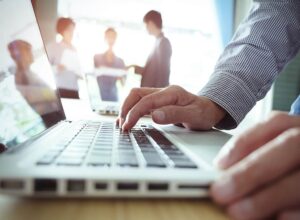 Do you know what your families want, need, and expect regarding child safety and protection? Do attending families give you feedback or offer suggestions? Have you ever considered asking the kids directly about how safe they feel in your organization? A survey is an excellent way to gather the information that helps with ongoing decision-making, improving areas that need work, and building an open dialogue with the families you serve.
We encourage organizations to consider doing an annual family survey and safety evaluation. We've shared resources on keeping safety as the goal, questions to ask, format styles, survey length, and areas of evaluation.
Here are seven steps to help you kick off the effort and create and implement a feedback survey.
1. Set your objectives and goals.
What would you like to learn?
How will the data be used now and in the future?
Do attending families believe you provide value and why? What's working and what's not?
How can you provide a better experience?
2. Compile questions from past surveys, inquires, and feedback loops, then update questions to be more current and add anything new or items that you want specific input on. Try to keep choices easy to understand and quick to answer – don't expect people to write more than a few sentences of feedback.
There are several format options to consider. Here are two examples with the first being a sliding scale with 1-5, 1 being the lowest, and  5 being the highest. It provides insight into a parent's perception and overall feeling of child safety.
Here is an example of what could be included: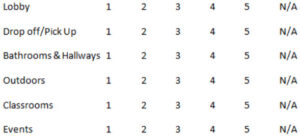 At the end of the section, add an area for open-ended response asking parents to share why they gave the ratings they did. Written feedback and comments are important to put context to the rating and an opportunity for them to share their thoughts, whether it's positive or negative.
Here's a second example of a different format. You'll want parents to provide feedback on how your organization is adhering to the established Child Protection Policy regarding specific areas. Note: (If you don't have a Child Protection Policy check out KidCheck's three-part series on the purpose, design, and execution of a CPP.
Also, always include an option for contact information.

Beyond the ratings, ask some open-ended questions about safety and protection. Here are a few to consider.
What do you consider our greatest strength as it pertains to child safety?
What do you consider our greatest challenge as it pertains to child safety?
How can our staff, leaders, and volunteers improve the protection of children?
Have you attended any of the child safety training provided?
If yes, was it helpful? Good quality?
Would you like someone to reach out to you to discuss anything in more detail or answer any questions?
3. Before sending, ask for internal feedback from your team members and run them by a few families as well. Keep open-ended questions to a minimum.
4. Send your survey far and wide to your member families, families that are temporarily not attending, and perhaps those who have left your organization. To increase participation utilize various tools such as the KidCheck check-in survey feature, email, post to a website, provide hard copies to fill out during check-in/out, monthly newsletter, social media, weekly announcements, or a direct mailer.
5. Gather feedback and be prepared to nudge those who haven't answered to complete the survey. Always specify a survey 'due by' date for families.
6. Evaluate the feedback, remove any invalid responses, and summarize it into a document to be shared and kept for future reference. You'll want to share your results with your team, areas of the organization where the results can have an impact, leadership, and the families that responded.
7. Study and act on the results. Highlight the areas where you are performing well and understand the areas that need improvement. Prioritize tasks from most important to the least important and allocate resources accordingly.
All you need is a short 5–10-minute survey for adults and a 1–3-minute simple survey for kids. Click here to see sample questions for kids. Any feedback is helpful, and what others share can provide new insight, opportunities to improve, and further actions you may not have even considered.
Join our growing social community for additional safety tips, best practices, and relevant content. We're on YouTube, Facebook, Twitter, Instagram, and Pinterest. Subscribe to the blog and have information sent directly to your email box.
*Image credit DecisionWise