FREE eBook: What Matters Most in Children's Ministry?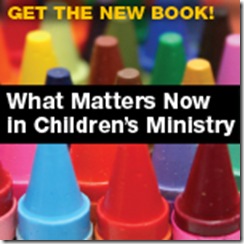 To those that dedicate their lives to serving kids in children's ministry, we at KidCheck salute you. You're the real unsung heroes of our time. We've all seen the task lists of our local children's ministry directors, and to sum it up, there's always more to do than hours in a day. Those massively large tasks lists contain important elements of creating a successful ministry, but have you ever wondered if those tasks actually help bring children into a deeper, more meaningful place with God?
Matt Guevara, the Executive Director of the International Network of Children's Ministry asked the thought-provoking question, "So what really matters now in children's ministry?"  To answer, he called on the leaders and speakers that participate in the INCM Children's Pastors' Conference and online events throughout the year to provide their input into this power-packed free eBook.  Their answers may surprise you, delight you, or get you rethinking those task lists. However you choose to respond, the hope is that the replies in this eBook bring clarity and a fresh insight to you as a leader in children's ministry.
Click here to download your free copy of "What Matters Most In Children's Ministry."
To learn more about the benefits of using KidCheck's secure children's check-in solution visit http://kcwebserver.eastus2.cloudapp.azure.com or join us on Twitter, Facebook, Google+, or Pinterest.
#kidmin #youthmin #fammin #KidCheck #CPC17 #churchsafety #checkin #assurance #church #pastor #ministry