The Importance of Good Questions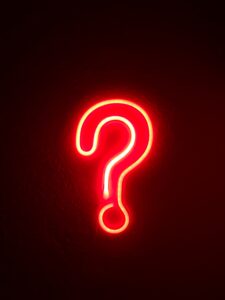 You may not have all the answers as a leader, but that shouldn't stop you from asking good questions. Questions are important because they stimulate discussion, promote critical thinking, and act as a conduit for increased creativity and innovation. Learning to ask powerful questions is fundamental for anyone leading or working with others.
While asking a question seems intuitive, it's a skill that takes time and effort.
What makes a good question?
Per Indeed.com, says, "The quality of a question depends on the context in which it is asked." For example, a teacher might ask about a topic that stimulates thinking or helps a student learn something new, whereas an interview candidate might ask questions to increase their knowledge about an organization, project, or team.
Whatever the context, a good question is concise, descriptive, easy to understand, never random, focuses on a single topic, and is timely.
Types of Questions
According to the Study Higher, there are three basic categories: Open, Closed, and Probing.
Open questions lead to more complex and extended information sharing. These questions don't seek a yes or no answer but encourage more discussion or further explanation.
Closed questions are designed for a one-word answer, such as yes or no, true or false, etc., Or they ask people to choose from a predefined set of responses.
Probing questions are similar open questions, but they seek to build on what is already known.
How to Start Asking Good Questions
Here are five ways to improve on asking good questions.
Actively Listen – Face the person you are speaking with and make intermittent eye contact to let them know you are interested in the conversation. Try not to interrupt. Maintain an open posture by avoiding crossed arms and movements like tapping your foot in annoyance or impatience. Be aware of non-verbal cues such as tone of voice, facial expressions, or body language.
Investigate – Consider your intentions and if you understand what you are asking and why. If you are unclear, conduct more research, which will help improve your focus. Know if you want confirmation or an informed opinion, understand the data around the question, and if your expectations lean towards solidifying a position or gathering further insight.
Be Fluid – See where the conversation leads, as sometimes they go off-topic. Don't panic. You may find that shifting from the original question prompts an additional exchange of information or answers other questions you may not have considered.

The Shorter, the Better

– If your questions are too long, you may confuse the person. Try not to overwhelm people with long-winded and overly detailed questions. Provide a summary that includes a balanced amount of information. This will allow a person to process your question and provide an answer quickly.
Pay Attention to Your Tone – Your tone of voice is how you speak to someone. It can include the words you choose, how low or high your volume is, the pace of the message, and even the location of your conversation. All these elements can affect a person's perception and response.
Practice Makes Perfect
Mastering the art of asking good questions is an essential skill every leader should practice. Give yourself time to build up your skills, practice what you have learned, and gain the advantages of asking good questions. Soon you will see improved communication, genuine connections formed, and increased value for your organization.
Click here to subscribe to the KidCheck blog or join our social community for additional child safety information. You can find us on  YouTube, Twitter, Facebook, Pinterest, and Instagram.
Click here to schedule a free product demo and see first-hand the benefits of using a secure children's check-in system in your organization.
Sources:
Photo by Simone Secci on Unsplash