Guest Post: Top 10 Tips to Manage Children's Stress in Ministry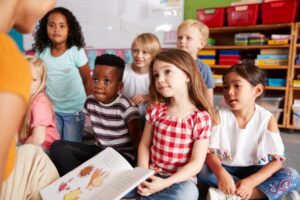 This week we're featuring a guest post from childrensministry.com – A fantastic online resource for leaders in children's and family ministries. The site features Leader Tips & Tools, Family Ministry Ideas, Bible lessons, and many activities.
The post focuses on the benefits of helping kids manage stress. It shares ten tips that help encourage parents, reduce anxiety, and create activities that incorporate music and movement.
________________________________________________________________________________________________
Kids seem to be incredibly stressed nowadays. Here are 10 tips to reduce the stress level of children in your ministry.
It's stressful working in children's ministry. But, as taxing as our lives can be, the kids in our ministry can have it even worse. Growing up has never been easy, and with today's challenges, it is even harder. Stress is all around, and kids who do not know how to deal with it can act up in class or miss the message.
Here are 10 tips to help reduce the stress level of the children in your ministry:
Encourage parents to limit their kid's TV time by giving them family activity ideas.
Give kids a chance to transition after activities. Plan your time wisely so you don't rush kids.
Calm yourself before teaching. Stress seems to be contagious, and kids can pick up when your stress level is off the charts.
Get kids physically active. Have a particularly anxious bunch? Stop the lesson and let them run a few laps in or do some simple, fun exercises. Work the stress out.
Offer healthy food during snack time.
Talk with kids outside of the lesson setting. Let them share their feelings and tell them that some stress is part of normal life.
Admit when you're wrong or make a mistake. You set a good example for the kids and show that we all fall short of perfection.
Games are great but remember that it doesn't always have to be a competition. Come up with a challenge and let kids work together and use their problem-solving skills.
Have kids breathe slowly in and out. Consider tying it into the lesson by using Psalm 150:6 or Genesis 2:7.
Incorporate music with movement.  Letting kids sing or do sign language to worship music is a great way to calm stressed minds.
So there you have it. Keep these tips in mind, and pretty soon your class will be stress-free. If you are having a hard time dealing with your own stress, don't worry. We have some great ways for you to relax as well!
Click here to see the original post.
Click here to subscribe to the KidCheck blog or join us on YouTube, Twitter, Facebook, Instagram, and Pinterest.
Image credit from NC DHHS