National Child Abuse Prevention Month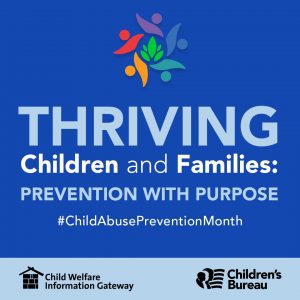 National Child Abuse Prevention Month recognizes the importance of families and communities working together to prevent child abuse and neglect. To create healthy, thriving families, it is essential to collaborate, provide prevention services and use evidence-based information to protect children.
April is National Child Abuse Prevention Month. This year's theme is "Thriving Children and Families: Prevention with Purpose."  There are several new tools and resources to engage your community and continue to highlight the benefits of preventing child abuse and neglect.
Throughout April, we will be sharing resources from The Children's Bureau and the Child Welfare Information Gateway, informing, educating, and encouraging our community to get involved by learning how to identify, prevent, and respond to neglect and abuse.
Here are the available resources.
The Resource Guide focuses on protective factors that build on family strengths to foster healthy child and youth development.  A few of the topics include tips to create a more supportive society for all families, building protective systems to prevent maltreatment, organizational alignment for family resilience and healing, and additional partners and resources.
Conversation Guides assist service providers in having personalized conversations with families about the six identified protective factors. The information comes with detailed guides and worksheets for parents and caregivers.
3. Data
The Children's Bureau releases a detailed annual report on the national data regarding child abuse and neglect and the state and local services that address it.
To show your support and help spread the word and build awareness through social channels, now available are graphics, social media posts, sample proclamations, and frequently used campaign hashtags.
The multimedia gallery offers videos that present a series of conversations created to highlight the value of family-focused child abuse prevention programs. Each video shares a story and is an informative tool to share with community partners and families.
6. Publications
Provide information to professionals who frequently explain the details of maltreatment and the associated factors to families and communities. Topics include child abuse prevention, minimizing the risk of abuse, and promoting healthy families.
Please share this information to help spread the word. Together we can make a difference!
For additional safety resources or to join our growing social community, subscribe to the KidCheck Blog or join us on YouTube, Twitter, Facebook, Pinterest, and Instagram.
Click here to learn more about the benefits of secure children's check-in and how it can help your organization attract new families, improve child safety, balance workload, and free you up to do what matters most – connect with families!
Sources:
https://www.childwelfare.gov/topics/preventing/preventionmonth/?utm_source=facebook&utm_medium=social&utm_campaign=ncapm21