Five Ways to Overcome Technology Obstacles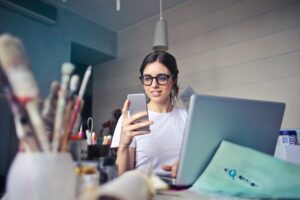 Does adding technology to your daily workflow in the children's area make you shudder with fear? If so, we've got good news! Integrating technology will help when volunteers are scarce and improve productivity, increase efficiency, and make life easier.
However, getting everyone on board can be a challenge. Couple that with the speed at which technology progresses. It's the perfect environment for never transitioning to a more modern solution. Here are five ways to overcome some of the most common barriers to implementing new technology and recognizing the benefits of optimizing your children's area.
1. Gaining Leadership Support
Very few tech projects move forward without leadership buy-off and support. So, the first thing is getting prepared. Be clear on your intention and desired outcome. Put yourself in the shoes of a decision-maker. They want to know what, where, when, why, and how. Strive to provide stats, numbers, break-even points, and benefits to the organization and the children's area. This will increase your chances of gaining approval and support.
Before others are onboard to adopt new technology, they will want to know how it personally affects them. Be sure to answer the following questions:
How will stakeholders and the organization benefit from using this technology?
What are some examples of how it will make life easier?
Why would families want to use this technology, download an app, or set up an account?
Does using a specific technology help further your mission as an organization, church, or children's area?
2. Leverage Feedback
Include feedback from staff, volunteers, families, and guardians. They will also benefit from utilizing a new technology. This can be done via a survey, suggestion box, or social media poll. Processes such as transitioning from a manual process like pen and paper attendance to an electronic mobile check-in solution require all stakeholders to be on board. Technology is only as good as those who use it, and with everyone's support, the outcome will be positive.
3. Raise Awareness
Implementing new technology is vital for growing organizations, don't keep it a secret. Blast the message far and wide. Focus on educating staff, volunteers, families, and leadership before, during, and after it's in place. Talk about it in your newsletter, texts, emails, events, and weekly standing meetings. Let the anticipation build, and people will understand the benefits and be excited to adopt a new solution.
4. Build Trust with The Tech Team
Often people will do all the steps above and have significant momentum only to be sidelined by the organization's technology team. This happens because IT support is unfamiliar with the technology or the company. Trust is essential. Being able to overcome objections from the tech team is crucial when implementing a new solution. It's best to have a plan for where the technology will reside and investigate details to answer questions like how much internet bandwidth is necessary? Does the solution need specific hardware? If so, what are the requirements? Is product support available? If so, when?
For example, KidCheck secure children's check-in offers training and support six days a week, including Sunday.
5. Serving Well
New technology shouldn't be overly complicated to implement. Its purpose is to make life easier, solve problems, and help everyone serve better.
A large part of rolling out new technology is getting to know the needs of your organization and children's area. Connecting the dots of what families need with the benefits of adopting new technology will ensure a step forward in utilizing a modern solution.
Click here to see how organizations utilize secure children's check-in, or schedule a personalized demo with us to learn more about the benefits first-hand. For more information, subscribe to the KidCheck Blog or join us on YouTube, Twitter, Facebook, Pinterest, and Instagram.
Photo by bruce mars on Unsplash