Book Review – Sunday School That Works!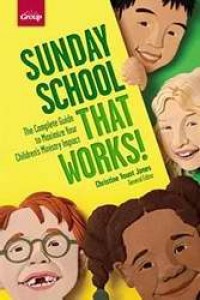 Thankfully, the market today is flooded with a tremendous amount of resources to help make children's ministry the best it can be – with magazines (both hard copy & online), blogs, websites, community hubs, and a myriad of other resources, there's no shortage of great information. However, one of the challenges is having the time to go through all the information that's available. For children's ministry professionals, there isn't enough time in the week to keep up with the latest trends. So when a new resource comes on-the-scene, that's dynamic and pulls everything together in one place – it's golden.
That resource is the book Sunday School That Works! It's published by Group and edited by Christine Yount Jones and its purpose is to help children's ministry professionals get the best out of their Sunday school programs.
Some key areas of focus include; developing your leadership team, children's safety & security, incorporating a learning philosophy, children's spiritual growth, and special needs ministry. KidCheck was honored to be asked to contribute the chapter on safety & security. The book is impressive with key learnings and practical advice shared by some of the biggest names in children's ministry, such as Dale Hudson, Gina McClain, Greg Baird and many more. Plus, Christine Yount Jones shares a compelling personal account of why Sunday school matters now and for eternity.
Whether you've been in children's ministry over 30 years or are brand new, this resource guide will change the way you approach creating ministry programs and remind you that through your love and commitment to the children in your care, you will change their lives forever.