Preventing Allergies from Overtaking Your Children's Ministry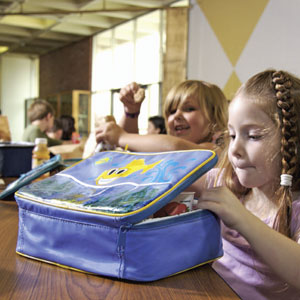 Last week KidCheck children's check-in hosted the "Improving Safety in Your Children's Ministry" workshop for local churches in Idaho.  One of the workshop goals was to share actionable, specific best practices that can be used to create a safer environment in children's ministry.  Some of the topics included Creating a Security Team, Securing Your Facility, Emergency Situations, Volunteer/Staff Policies and much more.
One of the best things about the workshop was the dialogue shared between children's ministry leaders. One question that generated a fair amount of discussion was, "What are other churches doing about food allergies?"  One leader shared," It used to be, you had one, maybe two, children allergic to something, but now the trend has shifted, and it's multiple kids in each classroom allergic to different things – how are other churches managing this trend?"
The feedback was good and worth passing along for those facing the issue. Listed below are 5 things churches are currently doing to help meet the challenges of "Food Allergies" within children's ministry.
Transitioning to a nut-free ministry – nuts are one allergen that is difficult to manage, especially with little ones. Nuts are also responsible for the majority of anaphylaxis emergencies. As one leader put it, "It's better to be safe than sorry." They've become a nut-free ministry. They also post signage throughout children's ministry indicating it's a nut-free zone.  For potlucks and shared meals, the church reminds people during announcements, for the safety of the children in the congregation, please leave the nuts at home.
Offer snacks with the lowest residual rate of allergic reaction – these snacks include those based with rice and vegetable proteins, such as rice crackers, Rice Chex, veggie sticks etc…
Eliminate art and project supplies that may cause reactions – ingredients include wheat, synthetic dyes, gluten and possible nuts fibers. It's best to check all labels carefully as many of these allergens can be found in traditional products such as playdough, standard classroom paints, and other art supplies.
Eliminate snacks all together – one leader shared they were trying this approach because of a small staff. They were encouraging parents to provide an appropriate snack and water bottle for their child. This change was initially met with resistance, but appears to be working to lower the rate of allergic incidence.
Establish a process to manage the allergies of children in your ministry – this includes making sure that the children with allergies are easily identified; this included having a current photo on file, allergic response signs & symptoms, and updated emergency contact information available in one central location.
For more information on addressing allergies for children in your care visit the Best Practice section on KidCheck or the Back to School post on the KidCheck blog.