Design An Effective Child Protection Policy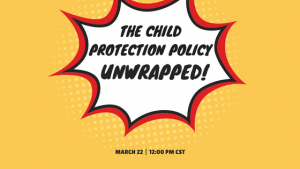 Interested in attending a FREE webinar from INCM? Here's a guest post highlighting one that's happening this week. KidCheck will be sharing information on how to use a child protection policy to increase child safety, protect staff and volunteers, and reduce overall liability in your children's ministry.
Whether you're starting from scratch, or have an existing policy that needs to be updated, this webinar will help get you kick started.
We hope to see you there!
______________________________________________________________________________________________________________________________
Children have immense purpose and value! That's why pastors, teachers, parents, and volunteers have the ultimate responsibility of doing all they can to protect the little ones, the most vulnerable in our society. We understand, this is a high calling and no one can do it perfectly. That's why we're digging into the Child Protection Policy with our friend Angela Lewton from KidCheck!
The best way to prevent abuse is to plan ahead. This webinar will help identify the most current and essential elements of designing and implementing an effective Child Protection Policy. Whether you're updating an existing plan or starting from scratch, you'll walk away with the steps to get started.
Join us for this free training Wednesday March 22nd 12pm CST!
Can't watch live? Register anyway so that you can receive the replay link!