Latest KidCheck's Updates & Improvements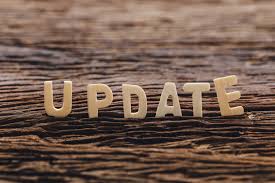 At KidCheck we're constantly looking for ways to improve our secure children's check-in and offer more convenience, increased usability, and better access to your check-in data. Listed below are a few improvements we recently rolled out.
Automatic Classroom Load Balancing:
How you want kids to be assigned to each classroom!
If you're not familiar with Automatic Classroom Load Balancing, it was designed to simplify the process, track, and adjust check-in around ratios and capacity. With this feature, you're immediately informed right on the check-in screen when a room reaches capacity and gives you the ability to automatically adjust.
Now with Automatic Classroom Load Balancing, as the system balances child placement in rooms, you have the option of keeping families together. This is helpful if those attending are new and prefer to keep their kids together or you're working to set up your rooms more family style. Bottom line, this feature gives you the flexibility to determine exactly how you want to assign kids to each classroom, promote a positive perception, offer more convenience during pickup, and give parents additional peace-of-mind.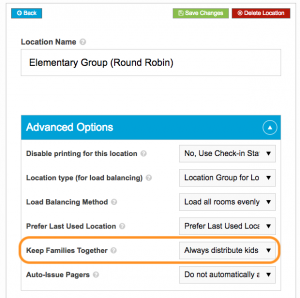 Check-In Announcement and Notification:
Now you can choose which guardians associated with a child to include a notification for!
The Check-In Announcement & Notification feature provides a great tool for sharing information right on the check-in screen, in a prominent location, either for all parents/guardians to see or for individuals as necessary. This information could include anything from details about upcoming events to room changes, a reminder to bring diapers, or simply a follow-up message to welcome a new family back if they're new to the program.
When leaving a notification associated with an individual child, this most recent update allows you to now select which guardians on the child's account should receive it. This increases efficiency, provides added security and allows organizations to better manage messages.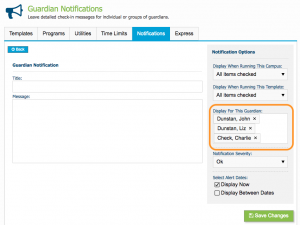 Parent Communication Tools:
While not new, here are some of the parent communication tools available in KidCheck to connect with families. We understand that consistent communication between parents, volunteers, and staff can be tricky. Nevertheless, with the right tools, completing the communication loop can be stress-free, fast and very effective. Listed below are a few of the KidCheck resources to connect with families.
Parent Check-In Notes – When parents are in the initial check-in process it's a great time for them to share information. For parents, the check-in notes provide a visible platform to designate any special instructions they want to be known for that day. These special instructions could include anything from birthday information to feeding schedule details. The information is in addition to the medical & allergy alert fields, so it's printed on the badge itself. The notes are very helpful for staff members to have additional insight into special needs or specific instructions for the child for that day.
Individual Text Messaging – This is the easiest, fastest and most private way to share critical or more immediate information such as a need or an emergency. Text messaging is a great way to inform parents they need to immediately return to the nursery, a classroom, or can be used to assure worried parents when their child, who was crying during drop-off, is now calm and playing happily. In addition, if another parent or guardian is responsible for dropping off or picking up a child that day, a parent can receive "the child has checked-in/out message", providing the assurance of knowing the location of your child. Learn more about the benefits of text messaging.
Broadcast Text and Emails – This is group messaging at its finest. Whether you are using the email or text feature, it's quick and easy and gives you the flexibility to choose the criteria for who is receiving the message, as well as track your communication timeline to see from whom and when messages were sent. Plus, the broadcast email includes the option of attaching documents to the email such as participation paperwork, a monthly volunteer schedule, event promotion material and much more. Learn more about broadcast email.
Guardian Receipt and Notification – The KidCheck guardian receipt is an important feature in maintaining a safe and secure check-out process. When a child is checked into KidCheck, a name badge is generated for each child, along with a guardian receipt with unique matching security codes. Traditionally, the guardian who checked the child in keeps the receipt, and uses it later to securely retrieve the child. Guardian receipts contain no personal information regarding the child. This ensures that if a receipt is misplaced and discovered by someone else, there's no immediate threat of the child being picked up by someone who is unauthorized.
In addition, the Guardian Receipt is now available electronically on the guardian's mobile device in the KidCheck mobile app. This means each time a check-in is processed via a station, tablet, or through Express Check-In, if the parent/guardian has downloaded the KidCheck app, the guardian receipt will be available on their personal mobile device.
Click here to learn more about the benefits of using secure child check-in or visit our website to schedule a free, personalized demo.