12 Children's Ministry Fall Outreach Ideas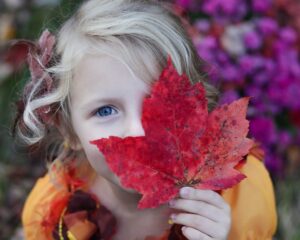 Struggling to attract new families? Fall is a fresh start and a great time to build community. It's the time of year when the heat of summer disappears, the days become shorter, the foliage colors become vibrant, and sweater weather begins. According to the experts, fall has some unique qualities that increase people's excitement, drawing them outdoors and into trying new activities, making it a great time to ramp up your outreach to families.
Here are a few creative activities to reach out to new families and introduce people to your children's ministry this fall season.
Coordinate a Flag Football Tournament – Your families will love a little gridiron action at a community park in the fall. You can promote the tournament to local neighborhoods on your ministry webpage, hand out flyers, and encourage attending families to bring friends.
Throw a Tailgate Party – This can be done before the Flag Football Tournament or in the church parking lot for a local high school team. It's a great way to meet new families and invite fans. Consider holding a raffle with themed prizes, grilling hamburgers and hot dogs, and any other ways you can support the families.
Set Up a Family Hike – Hit the trails with a hike in your local area once or twice a month. This can be done on a Saturday or Sunday afternoon. Kids love running up and down the trails, allowing you to get to know families in a relaxed atmosphere.
Start a Family Book Club – Fall is a great time to read and who doesn't love a good book? Create a family-friendly reading list with fall themes. Make sure the books can be checked out at the library and aren't too long or difficult to complete. Make the end of the book party fun with prizes for the best child narrations or drawings. Finally, encourage families to offer book suggestions for the next time.
Offer Outdoor Art Workshops – Fall offers many opportunities to use outdoor items for art projects. There is a multitude of ideas on Pinterest for fall art. The best thing is encouraging kids to get outside and find their art supplies.
Schedule Family Cooking Classes – If your ministry has access to a kitchen, this is a plus, but not a showstopper if there's not one. You can go simple or elaborate for this activity. The goal is to get families together to cook and share a meal. Depending on attendance, you could assign each family a different part of the meal or have everyone make the same thing. The possibilities are endless.
Hold a Family Swap Meet – If possible, hold the activity in your church parking lot. Encourage families to bring items to sell or swap. This can be anything from kid's clothes to bicycles, games, toys, puzzles, books, or music. It should focus on items that families need, want, and use. You can promote the event through local outreach. You might even consider inviting a few food trucks for fun and additional outreach, as they usually promote events they attend.
Create Family Service Saturday – Schedule projects that allow families to assist their community. For example, they can rake lawns, trim trees, gather leaves, and do cleanup for neighbors in need. It is hard work, but people appreciate the help, and it gets families outdoors and working together.
Host a Community Harvest Festival – This is genuine family fun in the fall! If possible, host on the church property and include food, games, and activities such as hayrides, corn mazes, face painting, and crafts.
Form an After-School Program – Do you have space that is not used during the week? If so, it's an excellent opportunity to put it to good use by offering homework assistance, a snack, or a safe place for kids to congregate until their parents are off work.
Lend Support to Local Teachers – This activity could fall under family service projects and include hosting a breakfast or lunch to having a fundraiser for needed school supplies or teacher resources.
Sponsor an Outdoor Movie Night – Fall is the perfect time to feature a family-friendly film outdoors with the nights getting cooler. You can serve popcorn, cookies, hot chocolate, or cider. Encourage people to bring blankets and lawn furniture. Create a ticket-themed invitation for local outreach.
The outreach activities are designed to attract new families and build relationships. That's why, if possible, hold the events at your facility or location. It's also important to get families to invite other families. This will help people visiting feel more comfortable.
Follow Up
However the follow-up process looks for your organization, make sure to keep any promises made; things like sending more information about another event or volunteer opportunity. Keeping promises goes a long way in solidifying their interest.
Always request new family's contact information or have them set up a KidCheck Account to help you easily follow up and invite them to upcoming events. Also, depending on the event, consider using Event Registration.
Click here to sign up for a free KidCheck secure children's check-in demo to learn more about how check-in can support your fall outreach activities. Subscribe to the KidCheck Blog or join us on YouTube, Twitter, Facebook, Pinterest, and Instagram.
Photo by Gabby Orcutt on Unsplash