INTRODUCING CPC+ — A FREE ONLINE CONFERENCE FOR KIDMIN EVERYWHERE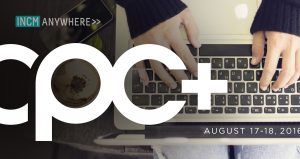 Don't miss this fantastic "FREE" opportunity to attend children's ministry's latest online conference. Interact with current #kidmin thought leaders, increase your ministry knowledge and best of all be inspired!
KidCheck will be presenting on Improving Child Safety in your Organization, Wednesday, August 17th from 10:15 am – 11:15 am MST. To register click here.
By Matt Guevara
Here at INCM, we just can't help ourselves- we LOVE the Children's Pastor's Conference. There is nothing more thrilling to us than to gather with leaders like you at CPC and celebrate the magnificent things we have in common- a love for God, the gospel, and the kids and families in our communities.
For over 35 years, CPC has been a place where the kidmin community unites to grow, share, learn, develop, recharge, and refocus on what God has called them to do. The inspiring general sessions, the excitement of Resource Center, the incredible variety of breakouts, the transformative coaching conversations, the incredible hallway interactions and new connections made … there is nothing quite like being together at CPC.
So we thought, "Why wait until January?!" (Because, really, we can't wait to see everyone in January! 193 days! But who's counting? We are… Obviously…)
We invite you to join us August 17th and 18th for a new, FREE online event called CPC+!
CPC+ allows you and your team to get a taste of the inspiration and training you would receive at Children's Pastors Conference from the comfort of your home, office, or favorite coffee shop, and it's absolutely free to register.
We'll be sharing some of our favorite General Sessions from past CPC's, and we have pulled together some amazing Breakouts with speakers who will provide amazing training LIVE, including "Improving Child Safety in Your Ministry" from our partners at KidCheck.
We're looking forward to spending a few days with you experiencing a taste of CPC.
About Matt Guevara
A veteran children's and family ministry leader, Matt Guevara has held a life-long curiosity for how kids learn and how the church can best serve families. Matt currently serves as the Executive Director of INCM and leads a family with four amazing kids.