KidCheck and the Group Kidmin Conference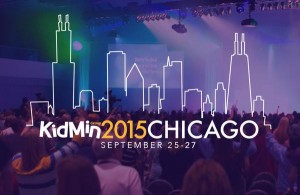 Kids today are skeptical, complex, and know without a doubt they have a voice that presumes to be heard. Their culture is lightning fast and full of issues such as abuse, stress, bullying, hunger, confusing behavioral norms and so much more. Come to think of it, most of these issues weren't even discussed in children's ministry 5 years ago.
The good thing, the typical child in the 4-14 age window is open for in-depth discussion on the current issues; but how do you talk, reach, or even relate to their world? Que, the big band music…in rides the white knight on a beautiful stallion in the form of a Group Kidmin Conference – yes dramatic, I know, but this is a blog and a little drama is always appreciated.
This year the Group Kidmin Conference is being held in one of my very favorite cities – Chicago! Chicago is known for its modern skyscrapers, museums, sporting events, jazz, and lest I forget to mention, the iconic foodie scene. I could literally write 2,000 more words about all the food options, but I digress, my apologies, back to the discussion at hand.
Friday, September 25th kicks off this year's conference and it promises to be an experience like no other! On the docket are great speakers, a plethora of kidmin resources, fantastic topical sessions, and lots of fellowship. They're even offering prayer support to encourage people to take care of themselves while they learn to take care of others. How cool is that!
While all of the aforementioned points of awesomeness are great, the one thing that separates this conference from the pack is its Vision. They want each participant to experience a renewed passion, authentic conversation, and deeper learning. Everything in the conference from the vendors – who by the way are hand-picked – to the worship music, and support resources are focused on renewal, conversation that connects, and learning!
Children's ministry can be tough on individuals. I encourage those attending to not look at the Group Kidmin Conference as just another conference, but as a powerful partnership that seeks to fine tune your ministry and take you to the next level.
If improving child safety is on your mind, we hope that you'll stop by the KidCheck booth for a free demo and let us show you what's new with secure children's check-in.
Included with this post is a video that was produced in partnership with Group Publishing and provides a snap shot of some of the silly things kids say. Enjoy!
Shouldn't You Be Writing This Down? from KidCheck, Inc. on Vimeo.