KidCheck and The Best Week Online for KidMin!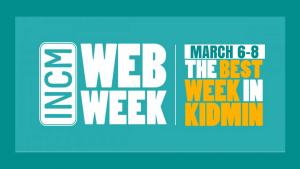 The International Network of Children's Ministry (INCM) is committed to training and equipping children and family ministry leaders around the globe. They started a movement to connect thousands of ministry professionals with resources that inspire, train, and support the unique needs of each ministry.
INCM is passionate about providing great ideas through their blog, social media, and quarterly resource subscriptions.  By gathering leaders for next-level training and spiritual formation, they encourage conversation and connection no matter where you live in the world.  Conversation with a purpose for listening, learning and responding is what sets this organization apart.
During March 6-8, 2018 INCM is offering a fantastic training and educational opportunity, Web Week which is the best week in kidmin! Web Week is a three day, online event. During the three days of training, participants will receive inspiring, challenging, and practical instruction that can help in taking your children's ministry to the next level.
As a bonus, if you weren't unable to attend CPC18 the Children's Pastors Conference this past January, you can still learn from leaders such as Lisa Harper, Beth Guckenberger, Louie Giglio- as each of their conference sessions will be shared via a video conference replay.
KidCheck will be leading a workshop on Tuesday; March 6th called Volunteer Policies for the Modern Kidmin. The session will provide an in-depth review of current policies and their role in the overall safety plan. By attending this workshop, you'll have a good understanding of the top risks to your children's ministry, the importance of having a Child Protection Policy, the keys to effective volunteer guidelines, and what a comprehensive screening process should include.
We hope to see you at this exciting event!