KidCheck for Fitness Facilities and Activity Centers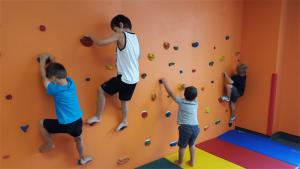 It's no secret, KidCheck believes every child deserves a chance to grow up in a safe environment, and every parent deserves peace-of-mind about the safety of their children. Coupled with technology that's well designed and not intimidating to use, KidCheck is passionate about helping organizations focused on serving children improve their safety.
Whether it's a church, fitness facility, activity center, or aftercare program such as the Boys & Girls Club or YMCA, KidCheck's focus is on providing a feature rich children's check-in system. That is why we're so excited to share our latest video.
The video highlights some of the many benefits of children's check-in, specifically for fitness facilities and activity centers. Many organizations understand having a children's area is an important service, but few realize the impact it can have on the bottom line.
With benefits such as reduced risk and liability, a positive parent perception (research indicates child safety is consistently a top priority among parents using a facility's child's area), and increased retention and loyalty, offering secure children's check-in provides many advantages.
To learn more click on the video below.
Tags: #kidsclub #checkin #kidscorner #kidscenter #safetyfirst #fitfam #fitness #gymhero