KidCheck Mobile Check-In App – New and Improved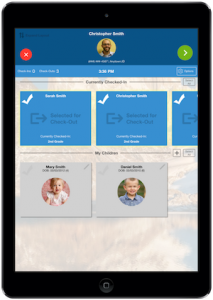 We are excited to share we've improved and updated our children's check-in iOS mobile app, and it's better than ever!
Mobile check-in has so many benefits including added flexibility, shorter check-in lines, a personal touch, and the convenience of allowing volunteers to walk around with a tablet device to easily check families in.
Now, KidCheck's updated mobile app provides an even better overall check-in experience. We've made several updates incorporating customer feedback into the new version. The mobile app sports a new and improved look with an easier to use, more intuitive user interface. Plus, it provides increased reliability. Internally, we call the updated mobile app "snappier" as it's more intuitive, more responsive, and well, it just looks good!
For KidCheck customers already using our mobile check-in app, it may update automatically to the new app depending on your ipad settings. If not, simply update here from the App Store.
For organizations not currently taking advantage of the many benefits of mobile check-in, the KidCheck mobile check-in app can be downloaded from the App Store.
We will be working on an updated Android version, so if that's your preference stay tuned.
As always, support and training are free. We are available and ready to help with any questions, or to get you started. Just reach out!