KidCheck PrintHub – Faster Children's Check-In Label Printing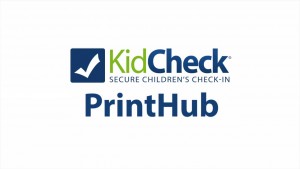 In a previous post, we introduced the KidCheck PrintHub, and shared how it has significantly improved mobile check-in printing (no computer needed!). Whether for mobile child check-in or computer station check-in, the KidCheck PrintHub has many other benefits as well. It provides faster, easier, and more reliable printing of check-in labels.
Faster Label Printing (Up to 3X faster)
We recently completed some label printing speed testing* with the PrintHub and wanted to share the results. The KidCheck PrintHub prints check-in labels 3x faster versus a Mac computer, and 1.3x fastercompared to a Windows computer. That means the check-in process keeps moving quickly, which is another way that having a secure children's check in system helps make parents happy, which in turn makes you happy. (*Testing is based on using a 'typical family scenario' using a fast, current model Mac and Windows computer.)
Increased Reliability
With the PrintHub there's no need to download the DYMO label printer software. This increases reliability, plus makes it simpler to set-up and easy-to-use. The PrintHub is plug-and-play ready and comes pre-configured to automatically work with KidCheck and DYMO label printers. The PrintHub can connect up to three printers, or add a USB hub to support dozens of printers.
Added Flexibilty
Your label printer no longer has to be tethered to a computer. You can place the PrintHub and DYMO label printer(s) where you want and need them the most – classrooms, entry ways, more. Whether you are using the PrintHub for mobile check-in via a licensed tablet, or with a traditional computer based check-in station, you simply connect one or more DYMO printers to the KidCheck PrintHub and place it where you prefer labels to print out.
Mobile Printing
The KidCheck PrintHub allows for label printing, right from a licensed check-in tablet to the DYMO labelprinter. No separate computer needed in the process. When checking families in simply choose which printer to use and initiate printing right from the licensed check-in tablet. Learn more about KidCheck's mobile solution.
The KidCheck PrintHub Express is available on the KidCheck store, starting at only $199.
To learn more about KidCheck's feature rich, secure child check-in system, and best practices, visit the KidCheck website or join us on Twitter, Facebook, Google+, or Pinterest.
#PrintHub #churchtech #CheckIn #kidmin #fammin #youthmin #churchsafety #morethanjustakid #printing #labels