Introducing KidCheck PrintHub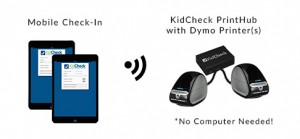 A faster, easier and more convenient mobile printing solution
For secure children's check-in there's no denying the rise in demand for mobility. Having a mobile check-in solution provides a unique opportunity to offer an additional personal touch with first-time visitors and returning families. Personally greeting guests at the door, securely checking in the family, and then being able to direct or walk them to where the printed child label and guardian receipt are waiting, demonstrates an enhanced level of efficiency and convenience.
For churches and other organizations that utilize KidCheck's mobile check-in app, printing the child check-in labels and guardian receipts, just got a whole lot easier! With the KidCheck PrintHub there's no need for a separate computer in the printing process.  Those checking guests in simply choose which printer to use and initiate printing right from the check-in tablet. Click on the video below for more details. 
With the PrintHub, KidCheck has taken mobile printing to the next level. It offers increased speed, a more simplified process, cost savings, and the option to strategically place label printers throughout the facility for added accessibility.
All in, child check-in labels and guardian receipts can now be printed more quickly and easily, without the need for a personal computer.
KidCheck's mobile check-in app is available for download from the App Store (SM) and Google Play ™Store for use with an iPad® or tablet device for Android™.  The KidCheck PrintHub and Dymo label printers are available on the KidCheck Store.
To learn more about KidCheck's feature rich, secure child check-in system, and best practices, visit the KidCheck website or join us on Twitter, Facebook, Google+, or Pinterest.
#mobile #technology #checkin #kidmin #fammin #youthmin #churchsafety #morethanjustakid #churchtech