KidCheck: Safeguarding Children with a Good First Aid Kit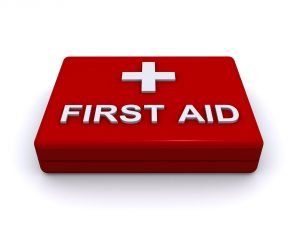 Safety doesn't happen by accident. – Author Unknown
Every organization caring for children should emphasize the priority of safeguarding the children in their care. This can be done by making sure that staff and leadership are trained and prepared to handle emergency situations both on and offsite.
Being prepared is essential and nothing speaks more to preparation then having a well-stocked, handy, first aid kit. Emergency supplies such as a first aid kit should be in all areas where children are being watched; this includes when children are taken offsite. It's always good to have a staff bring a portable first aid kit and have one in each vehicle that is transporting children to and from your facility.
The first aid kit and other emergency supplies should be kept in a closed container, in a location that is labeled and accessible to all staff, volunteers, and leadership, but out of reach for children. Having a location that is clearly marked is important, because during an emergency is the worst time to have to search for what you need.
To make sure you always have what you need in your first aid kit, we recommend either a weekly or monthly inventory be conducted, depending on how quickly you go through supplies. During your inventory the dates of supplies should be verified to confirm nothing has expired. Ideally, each kit should be restocked after every use. For some organizations, keeping a log of who completed the inventory check and restocked supplies is helpful.
What should be included in your first aid kit? There are many choices to consider and a plethora of pre-made kits to purchase. Listed below are items that we recommend for organizations caring for children.
First Aid Kit Items:
Writing utensil & notepad
Disposable latex-free gloves
Scissors
Tweezers
Thermometer: We recommend an ear thermometer such as the Braun Thermoscan. It has quick readings and lens filter detector, which means you don't have to sterilize after each use.
Bandage tape
Sterile gauze pads
Flexible roller gauze
Triangular badges
Safety pins
Eye patch
Cold packs
Distilled or sterile water: This is used for washing out eyes or cleaning wounds.
Liquid soap and/or hand sanitizer
Tissues & wipes
Adhesive strip bandages
Plastic bags: These can be used for disposing of materials that have been used or soiled.
Flashlight & whistle
Optional Items:
Battery powered radio and emergency cell phone.
Items for Portable First Aid Kit:
As mentioned above, a portable kit should be included for off-site activities. Each portable kit should include the items listed above and the following emergency information.
Complete attendance list with emergency contact information for each child. The list is the most helpful when it's organized by class and care giver.
Care plans for children with special needs. This should include any emergency medications or special supplies.
A list of community emergency contacts, such as Poison Control Center, local hospitals, emergency clinics, etc.
Optional Items Include:
Maps or local area
Policy guidelines and contingency plans for off-site activities.
If there's an item we have forgotten, or something you prefer to keep in your kit, please share in the comments section below.  If pulling together a kit from scratch isn't an option there are several kits on Amazon to consider, just make sure it's for use with children.
To learn more about improving child safety, and additional security tips, visit the KidCheck blog or connect with us on Twitter, Facebook, Google+, or Pinterest.
Sources:
Amazon.com
Caring for Our Children