Top Tips for Making a Lasting Impression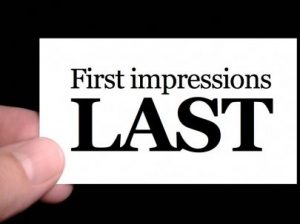 Tis the season for new families to visit your organization, and as the saying goes, "You never get a second chance to make a first impression." People evaluate organizations by how they conduct themselves; Meaning first impressions create both positive and negative mental images in our minds, which are lasting. First impressions are important because they happen fast and once established, are difficult to change.
The goal in making a good first impression should not be to "wow" your guests but to create a meaningful, memorable, moment within their experience. This moment can be anything from a sincere greeting to a thoughtful exchange of small talk. Keep in mind; visiting families are new to your processes and plans, so it's important to prepare staff and volunteers with helpful information to share.
Below are some highlighted tips that can help create a positive first impression that will last a long time.
1. Prepare ahead of time. Whether it's the first or last service, a little preparation goes a long way. Being prepared reduces anxiety and increases your level of confidence. To prepare, review in your mind all the "touch points" a family will go through when they come in your children's ministry area.
Here's a list of potential touch points to consider:• Are greeters available to welcome families with a smile?
-Is the check-in area clean, staffed and stocked with current information?
-Have the directional signs been put up to guide families to classrooms?
-Are teachers/volunteers ready for service?
-Does each classroom have what it needs?
-Are new families aware of what happens in case of an emergency?
-Is everyone aware of the check-out process?
-Are greeters in place to give a final goodbye & answer any outstanding questions?
-Have you captured enough information on new families to follow-up?
2. Be Intentional. "Truly being intentional, means understanding that our attitudes, feelings, thoughts, and actions directly impact every single one of our experiences. It means taking responsibility on how we "show up" in all situations, and for how we want to contribute. Being intentional requires refining skills, learning to choose to respond vs. react and consciously focus on the experience we intend to create." It's an opportunity to choose how you want others to perceive your organization.
3. Organize. There are many benefits to being organized. Finding an organizational system that works for you is well worth the time to investigate. Finding a system that provides a calendar, task management, contact information and communication tools, will enable you to be more focused on what you're called to do. It will also free up more time for yourself and loved ones, and allow you to do better professionally.
4. Say it with a smile. Smiling makes people more approachable, especially when you're meeting someone for the first time. A smile can set a new mother at ease when leaving her infant in the nursery for the first time. A smile can increase the ease of interaction with others and even incite joy. Volunteers that understand the impact of a smile on visiting families is the key to increasing the visitor's rate of return.
5. Goodbye. The first and last impressions will determine how likely new families are to return. However, it's the last impression that is the most powerful. Making sure that visiting families have someone personally say goodbye, and perhaps even have a conversation on the specifics of their experience, goes a long way in conveying that they're wanted and loved.
6. Follow Up. Following up with visitors is important! It makes them feel seen and remembered. Make sure you capture enough basic information to have a meaningful follow-up exchange. Information should include name, phone, email, and the child's name, gender and birthday.
For organizations caring for children, first and last, impressions are important and difficult to overcome if they're not positive. It's important not to overlook the importance of offering a few common courtesies and professionalism. People make both conscious or unconscious judgments about cleanliness, security, professionalism, and competence based on what they first see and will determine if they'll return long before their experience is over. Use the list above as a starting point for your organization.
Click here to learn more about the benefits of using secure child check-in or visit our website to schedule a free, personalized demo.