Connecting With Families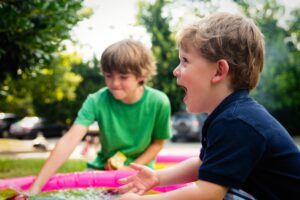 There are many reasons families have either slowed down their attendance momentum or have not been returning to church altogether. But, while motivations are different for each household, one common thread consistently leads people to act. It's the experience of feeling connected.
These last few years have significantly changed how people interact or connect with organizations. As a result, there are hundreds of research studies that seek to answer the question of how to get people to reengage and participate long-term with organizations they historically interacted with pre-pandemic. The results of these studies show a clear aspect of the process is organizations need to rebuild their communities by providing relevant, consistent, easy-to-engage communication.
Reaching out to families is an investment in building trust, letting people know they are seen, and connecting them with your organization. Social media, monthly newsletters, websites, etc., are all great tools for providing information, but the data goes only in one direction and doesn't offer an opportunity to create a personal dialogue with those receiving it. Enabling the conversation or discussion is vital.
Here are a few KidCheck features that can help with communication and some action steps to increase effectiveness.
Text Messaging – According to Pew Research, text-based messaging is the number one form of communication that increases relationships. On average, 90% of people open their texts within three minutes of receiving them. So it's the fastest, easiest, 21st-century tool for successful interactions. Plus, it's built right into our system and can be done from either the Admin Console or Admin Console App.
Individual Text Messaging is private and saves you time and energy by quickly letting parents know about an issue, need, or emergency.
*To increase the effectiveness of your texting, focus on simpler topics such as logistics, class changes, check-in notifications, and other easy-to-digest information. For more complicated or personal issues, follow up with a face-to-face meeting or call them directly.
Broadcast Text Messaging allows you to quickly get the word out and communicate with a broader group of people such as parents, volunteers, and staff. It's perfect for emergencies, updates, change notifications, and schedule or classroom information.
*To increase the effectiveness, keep diversity in mind. This means categorizing your recipient list into different groups based on the worker classification (volunteer, staff, or leadership), age of children, programs, or events. This makes communication more relevant to the audience and increases ongoing connection and conversation.
Broadcast Email – According to McKinsey Consulting, email is 40 times more effective than Facebook and Twitter combined, and Marketing Sherpa states 91% of US adults like to receive emails from organizations they know and do business with.
One of the main benefits of email is customizing the content to the recipient's needs. It's often referred to as a "conversation-rich outreach tool". Meaning it can be sent at any time during the day or night with information that matters. Not only does it help you keep in touch with new and returning families, but it helps your organization stay top of mind, educate the readers, and conduct surveys. Its importance cannot be overstated.
With the KidCheck Broadcast email, there's no need to use a separate email service, copy and paste emails from the database, or set up email groups. Groups can be customized on a variety of criteria. You can attach documents, infographics, medical release forms, whatever is needed.
*To increase the effectiveness of email work to segment the recipient list and find the right balance between sharing information and not overusing it. Too much email can be overwhelming for families, so finding that balance is essential to ongoing engagement.
Parent Check-In Notes/Announcements – The perfect time to connect and share important information is when parents and staff focus on the initial check-in process.
Check-in notes provide a visible platform to designate any special instructions parents want to print on a child's name badge for that day. This information is in addition to existing medical and allergy fields. For example, special instructions can include birthday information, feeding schedule, and medical or allergy alerts.
*To increase the effectiveness of check-in notes, make sure and communicate the benefits to new families when they are learning about the check-in process. Also, include information on the tool in volunteer onboarding info and make sure they can answer questions and walk families through adding information.
The Check-In Announcement & Notification feature provides your staff an excellent way to share information right on the check-in screen, in a prominent location either for all parents/guardians to see or for individuals as necessary. This information could include anything from details about upcoming events to room changes, a reminder to bring diapers, or simply a follow-up message to welcome a new family back if they're new to the program.
*To increase the effectiveness of using Check-In Announcements and Notifications, ensure staff and volunteers are familiar and trained on the feature and can highlight it for new families.
Effective and consistent communication is the foundation to fostering long-term parental happiness and connection with your organization. Using the right communication tools can help new and returning families feel seen, known, and connected which ensures long-term engagement.
For additional safety tips, best practices, and relevant content, subscribe to the blog and have information sent directly to your email box or join our growing social community. We're on YouTube, Facebook, Twitter, Instagram, and Pinterest.
Image credit: Ashton Bingham on unsplash.com