Guest Post: The Importance of Vacation Mode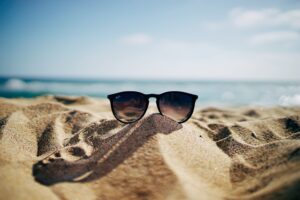 This week we are featuring a guest post from Meghan's Ministry. Meghan is passionate about all things Kidmin and has served in various ministry capacities in Alabama, Texas, and Tennessee. She enjoys serving children of all ages and equipping others to do the work in Christ.
Meghan enjoys baking, sewing, cross-stitching, and watching Braves baseball in her free time!
In the post, Meghan discusses the importance of having protocols for ministry leaders who would like to relax and enjoy their vacation.
She outlines five steps to help you prepare and turn off work.
__________________________________________________________________________________________________________________________________
Imagine: It's Saturday night. You are sitting on the balcony at your beach condo, enjoying a glass of iced tea, reading a book, and listening to the ocean. When all of a sudden: *ding* – your phone goes off, and it is a teacher who can't be at church tomorrow. Your brain switches in an instant from relaxed to stressed.
Maybe you are like me, and this created a little bit of a nauseous feeling when you read that sentence – because it hits too close to home. I have been there. The first vacation I took after starting full-time ministry, I got THREE texts from people who were calling out for that Sunday. And I took care of all of them. And it took a few days for me to be able to relax and enjoy my vacation.
We take vacation to rest. Meaning we are trying to get away from the stress that ministry can create and enjoy our time, family, and relax. If you do not have protocols for what to do when you are on vacation so you are not bothered (or can pass it off on someone else), I strongly encourage you to do so! Here are some steps that I take to help me turn off work and relax!
Enlist a leader/team to be your vacation people. This could be an existing person or team you have in place that steps up and does more when you are gone or a whole new person. If you have events outside of Sunday mornings that someone would need to cover, I suggest you go to the finance committee and ask for a small budget to pay someone to step up to the plate when you are gone.
Train your leader/team to know what to do when you are gone. Help them understand what classes go where, when to set up the check-in station, what emergency protocols are, where to get subs, etc. That way they feel equipped when you are gone.
Communicate with your teachers/volunteers that you will be out and who they need to get in touch with if they are going to be out or have an emergency. Let them know you will not be checking emails while you are on vacation. TURN YOUR VACATION RESPONDER ON in your email with the phone number for the church in case of emergency.
If you do get that dreaded text, take one of these options: forward the message to one of the leaders covering for you or give them the number of that person who is filling in for you.
Remember: even if things aren't as smooth as you would like, EVERYTHING will BE OK when you are not there. It might not be perfect, but everything will be ok. Remember you are not of use to your church if you are burnt out. Don't let your vacation days go to waste!
Photo by Ethan Robertson on Unsplash