Guest Post: 10 Ways to Stay Connected With Today's Kids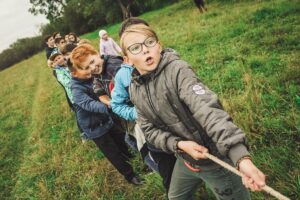 This week's guest post is an excerpt from Dale Hudson's latest book, "Fertile Soil…See Kids' Faith Grow and Flourish for a Lifetime." Dale has over 31 years of ministry experience, is the author of several books, and has been featured in Time Magazine and Christianity Today. He is a sought-after speaker and executive coach passionate about equipping churches to reach kids and families. Dale is the founder of Building Children's Ministry, which helps churches create relevant and successful kids and family ministries. 
_________________________________________________________________________________________________________________________________
Today's kids are not yesterday's kids. If we are going to reach today's kids, we must understand them and stay connected with them.
Here are 10 ways you can connect with the kids you are ministering to.
1. Ask kids directly what they like. Going directly to the source is the best place to start. A great way to do this is through a kids' focus group.
2. Stop by their TV channels. Make it a habit to stop by channels like Disney, Nickelodeon, Cartoon Network, Nick Jr., Sprout, and more. The programming will give you a look inside today's kid culture.
3. Go into the toy section when you are shopping. Make a detour by the toy aisle and check out the toys. This helps you see what kids like.
4. Keep up with what's hot at the theater. What movies are bringing in the dollars at the box office? What are the top family-friendly movies that are playing?
5. See what's trending on Netflix, Amazon, and Disney+. These services list what movies are currently the most popular. This will give you insight into what is trending with kids.
6. Check out which kids' apps are the most popular. A list of what apps are the most popular with kids will give you an inside look at what they like.
7. Check out the top kids' websites. Do a Google search and find out which kids' websites are the most visited. Look at the websites to see what's relevant with kids.
8. See which YouTube channels are the most popular with kids. Four of the five most popular channels are currently aimed at children, and they rack up about 1.5 billion views between them in a month.
9. See which songs are popular on iTunes. This will show you who and what kids are listening to.
10. Check out which books are best sellers for kids.
This is an excerpt from my newest book – "Fertile Soil…See Kids' Faith Grow and Flourish for a Lifetime."
Click here to subscribe to the KidCheck blog or join us on YouTube, Twitter, Facebook, Instagram, and Pinterest
Photo by Anna Samoylova on Unsplash