KidCheck Introduces Roster Check-In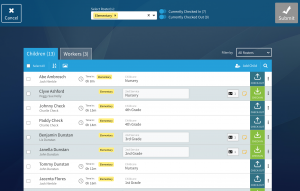 At KidCheck, we're always looking to improve, offer the latest technology, and deliver on customer needs. KidCheck is built on listening to and implementing customer feedback and feature requests. That's why we're excited to introduce Roster Check-In! You asked for it and we're excited to deliver.
With Roster Check-In, check-in and out is even faster and simpler, providing an option for administrators to check kids in based on roster lists of names they create, rather than needing parents to complete the full check-in process.
It's perfect for youth groups, classrooms, camps, schools, VBS, group activities, bus pick up, and numerous other scenarios. Great for both in-person and online attendance. You know which kids are expected to attend, so you can create a roster of those children and have it ready and waiting to check them in with the click of a button. You can check in a child individually or multiple children at one time. If enabled, labels will print upon check-in.
It's just as easy to check kids out from the roster list with the click of a button. Extra helpful for tracking and checking kids out of classrooms, done with camp for the day or ready to go home at the end of the activity.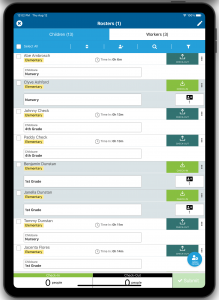 Plus, Roster Check-In provides a real-time digital roster replacing the paper or clipboard method and providing an at-a-glance status of who is checked-in or not.
To use Roster Check-In simply create the roster(s) from information in KidCheck, choose Roster Check-In when starting check-in, and pull up the appropriate roster list to check child(ren) in/out with the click of a button.
Roster Check-In is the perfect check-in solution for your list-based check-in needs. Learn more about Roster Check-In.
Click here to learn more about the benefits of using Roster Check-In, subscribe to the KidCheck blog, or join our growing social community. You can find us on YouTube, Twitter, Facebook, Pinterest, and Instagram.