7 Ways to Welcome Guests for the Holidays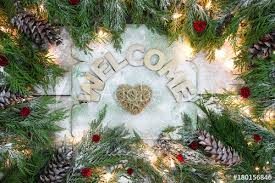 For many families, visiting a new organization during the holidays can be overwhelming, especially if it involves dropping off a baby or small child for the first time. That initial experience can define their perception regarding the level of care their children will receive. First impressions are a powerful indicator of whether a family will choose to return.
Most child-centered organizations during the holiday's offer a welcoming and friendly environment. However, in today's security conscious world, families are looking for more than just an inviting atmosphere. Parents want to know that those who are watching their children are competent and view child safety as a top priority.
How you welcome your holiday guests is a powerful tool in your arsenal of customer service offerings. Keep in mind; you never get a second chance to make a first impression.
Here are seven tips to welcome guests this holiday season.
Establish a Visitor Procedure – Create a smooth, simple procedure to welcome families and children. Make sure staff, volunteers, and leadership are trained and follow the process consistently.
Under Promise & Over Deliver – If you've ever arrived somewhere for the first time with the family, you know how exhausting, overwhelming, and frustrating it can be. Providing a handwritten welcome note, a small gift, treat, or perhaps a bottle of water when new families visit is helpful in making them feel relaxed and welcome.
Greeting – It's the most important aspect of the visitor procedure! For the busy holiday times, make sure any additional staff is properly trained. Each visiting family should be met by a smiling person who provides a quick overview of the area. This overview should include pointing out locations for the classroom, bathroom, check-in stations, and a short statement on what the family can expect and how they will be contacted in the event of an emergency.
Check-In – The check-in process allows the organization to capture enough basic information for a safe check-in and to complete follow up on a later date. Information should include name, phone, email, and the child's name, gender, and birthday. Once the family returns home, they will be prompted through email to finish setting up their account.
If you are concerned with delays in check-in lines due to an increase in visitors inputting their information, we recommend setting up a separate check-in area specifically for visitors; this will help families not feel rushed. Also, adding a mobile component to traditional check-in, like KidCheck Express Check-In helps shorten your check-in lines and make the process more efficient.
As Dee Cobia, a long time KidCheck customer located in Los Angeles shared, "Children's check-in is the front door to your organization and has a huge impact on a new family's decision to return. Child care directors need to know that people don't typically return if they've had a bad check-in experience. It's a deal breaker."
Focus on Welcoming the Child – This speaks volumes to the parent and lets them know you're focused on the needs of their child. Consider adding a colored sticker to the visiting child's name tag. This will let workers know the child may need more attention or assistance. Also, if you have kids that have been around for a while, you can assign them as a "buddy" for visiting kids. If separation anxiety occurs, ask the parents how they would like you to handle it. Ask questions like how long should you let the child cry before contacting them? Try and introduce a more outgoing child to other children or new toys they may not have seen. All these things help a great deal in making people feel welcome.
Highlight Safety – During the holidays there will be an increase in unfamiliar faces. Make sure to communicate with all workers that the holidays are a critical time for potential emergencies. Train staff to be observant and to notice anything out of the ordinary. Confirm if they see something they should say something.
Saying Goodbye – It's as important as saying hello. Be sure to assign someone to say farewell with a smile, thank them for coming, invite them to return, and follow up with an email or hand-written note within five days of their visit. Let them know you are available to answer any questions, highlight your organization's vision for the kids it serves, and make sure they know you look forward to seeing them soon.
Click here to learn more about the benefits of secure children's check-in. For additional tips and tricks, the latest child protection information, and original content join our growing social community. You can visit the KidCheck blog, or find us on Facebook, Twitter, Pinterest, Google+, and Instagram.