Comprehensive Candidate Screening – The Written Application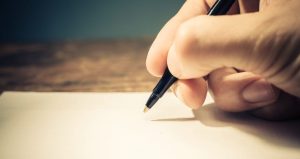 There are seven key elements that contribute to a comprehensive screening process. These elements include:
A written application
The application lays the foundation for the remainder of the six elements and identifies the core information required to make an informed decision about granting individual access to children. The screening process also functions as a deterrent for would-be offenders, eliminates easy access to children, and brings to the surface need-to-know information about a person's character, commitment, and history working with children and youth. Plus, it saves time in determining if someone is a good fit for your organization.
Being thorough when screening takes time. We understand time is a very valuable commodity, especially when you're working with children. Nevertheless, consider these two points when prioritizing the time needed to properly screen:
Less than 10% of child sexual abusers are criminally prosecuted
Meaning 90+ % will have no red flags or marks in their history with a background check
These two stats alone should be enough to convince anyone that in-depth screening is worth their time.
For the discussion, it's important to call out some of the assumptions we're working with to define a solid process. First, the process applies to adults 18 years and older. Next, we assume that applicants are applying to work directly with children on a consistent basis, and lastly the evaluation is taking place for paid staff, a volunteer or a leadership position.
The Written Application
The first element is the written application. The written application should always be 100% completed. Sometimes applications are turned in with less than 50% of the information completed – this is unacceptable. If an applicant is unwilling to complete the required information, this is a red flag.
The written application, at a minimum, should include the following information:
Name and any aliases a person goes by
Verified social security number
Driver's license state and number
Current phone number, address, or past addresses if they have been at their current location for less than a year, and email
Educational history and work experience with kids and youth
Family information
Current/past church associations (if you're in children's ministry or a church-sponsored youth group)
Criminal history
Signed waivers for background and social media checks
All completed applications should be kept in a secure and locked location either in hard copy or digital form. It's important that individuals who have access to the information understand the importance of keeping it private. The fewer, the better regarding access.
More information is to come on the other elements.
Click here to learn more about the benefits of using secure children's check-in or schedule a free product demo. If you want to keep updated on the latest in child protection trends, safety tips/tricks, and best practices join our growing community on Twitter, Facebook, Google+, and Pinterest.