Allergy Advice for Back to School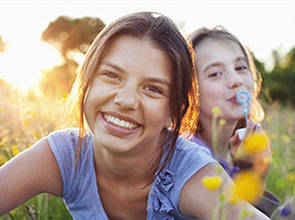 Heading back to school is an exciting time for most families. However, for those dealing with food allergies it can be a stressful and frightening time, at best. For kids with allergies, dangers lurk around every corner with high risk potential in shared-food spaces such as a cafeteria or a snack table, as well as the risks of art projects, field trips and celebrations? With approximately 3 million plus, school-age children suffering from some type of food allergy, the planning & coordination to keep kids safe requires a whole other level of focus and attention.
Communication is key – Creating a process so parents can easy communicate allergy information is the first step towards keeping kids safe.  Having a system that automatically tracks and manages these conditions is a crucial aspect in the overall plan. It allows staff, volunteers, and administration to quickly identify which kids are at risk and the triggers associated with their allergies. It gives individuals working with a child the opportunity to contact the parent directly with any questions or concerns. Communication is a great tool for prevention and offers piece of mind for all involved.
Coordination is important – While communication is a key point, coordination is hot on its heels for importance. A coordinated effort involves everyone knowing their role and responsibility. Parents are required to share and keep the child's information up to date. Key leaders (administration) are responsible for keeping teachers, volunteers and ancillary staff informed of pertinent information or changes in processes, to accommodate unique circumstances. Front-line individuals such as teachers and volunteers are accountable for knowing the response plan in specific situations. Parents or guardians of children with allergies can also be used as a resource for alternatives in classroom materials and food options.
Cooperation is a must – While communication and coordination tussle for top dog on the level of importance, cooperation is the connection that brings them both together. You can have the best processes outlined and the intention of proactively communicating, but if the cooperation to act isn't there, everything else is for naught! Most times being willing to participate takes extra effort and requires individuals to deviate from their comfort zone. Getting all involved to cooperate ensures no child slips through the cracks and faces a potential life threatening situation.
Click here to learn more about the benefits of using a secure children's check-in system, visit the KidCheck blog or connect with our growing community on Twitter, Facebook, Google+, or Pinterest
Sources:
*Information provided by the American Academy of Allergy, Asthma, and Immunology (AAAAI)