ASF Solutions Guest Post: KIDCHECK GIVES GYM OWNERS AND PARENTS PEACE OF MIND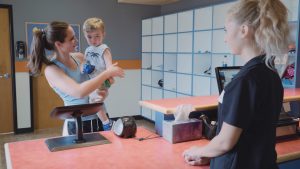 Getting to know your members and tending to their needs is important. Do you know which of your members are parents? Chances are, you have quite a few walking into your facility every day. Or you have prospects lined up who are looking for a gym or fitness club that has a kids' area and a way to safely and quickly check them in, so parents can go about their workouts stress-free.
Being a parent is a whole separate job in itself. They're always on the go, constantly running around, picking up toys and cleaning up some kind of mess. For many parents, the last thing they want to do is neglect their workouts because they don't have time to take their children to daycare or because daycare is too expensive. This applies especially to mothers who are trying to get back in shape post-pregnancy. To ensure you're keeping these members satisfied and attracting all types of prospects, it's best to have great check-in software in your kids' area. That's where KidCheck, a secure and mobile-friendly children's check-in system comes in to make your facility more efficient and make your members' lives a little easier.
Reduces liability
The biggest peace of mind for a parent is the safety of their children. KidCheck increases child security by ensuring only authorized caretakers can check kids out. Once a child is checked in, KidCheck software displays any allergy or medical information that your staff needs to know regarding your member's child. In the event of an emergency, the software also gives employees the ability to quickly know where parents are located.
Efficient and secure
Since parents are busy and on-the-go, it's important to have a system that is fast and easy to use, whether a parent is checking in at the kids' club in your facility or using a mobile app. With KidCheck Express Check-In, right on their own phone, parents can start check in at home while finishing a cup of coffee and getting ready to run out the door, or in the parking lot right outside the gym, wherever it's most convenient for them.
That means that as a fitness club or gym owner, you won't have long lines or stressed parents because members can easily and conveniently check their kids in which ultimately results in more efficiency for your facility. Parents also receive automatic, one-way text messages to confirm that they have checked their child in and reminder texts for when it's time to pick their child up–this way they can enjoy their workouts but also be in the loop at the same time, keeping everyone on the same page.
Reduces cost
Understanding your club and your members is crucial, and it's essential to track when parents and children come into your facility, both for the sake of members and reducing costs. Just like how our reports offer your club real data, KidCheck manages trends so you can understand information like how many parents are coming to work out and at what times.
By understanding your peak and slow times, you can decide how many employees you need working your kids' club, so you don't spend money over-staffing. There are also benefits with reduced liability as a secure children's check-in system improves child safety. You can also market things like mommy-and-me classes on certain days and at specific times, depending on what your data shows. Not only will these types of activities attract current and possible new members, but you'll make more money in the long-run just for knowing when people are coming to work out.