Book Review – Missing by Melissa J. MacDonald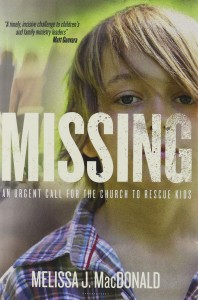 Looking for a good book to read? At KidCheck, we love books – especially ones that are well written and offer inspiration to those who are committed to serving children.
Nothing is better than reading a book that stirs your soul and encourages a different lens in which to view the world of children's ministry. The book Missing, by Melissa MacDonald (Miss Mel) is a captivating collection of personal stories and messages that bring the purpose and plan of God's work with children to view in a whole new light.
With that said, it must be shared; this is not a feel good, flowery collage of one woman's ideals and experiences. Missing is not a cry, but a SHOUT to the church to become relevant or better yet real, in its message and focus on the "4-14" Window of age (PDF available for download at 4to14window.com).
In a time when children and youth ministry have a plethora of resources, curriculums, and consultants available to develop soul winning strategies;  Missing bypasses those things and goes straight to the heart of the issue. The "4-14" Window is the largest, most receptive, unreached group in the world, yet it's rarely a core focus. Miss Mel shares that to make this group a central part of reaching the lost, we're going to have to get uncomfortable and go to places that most would prefer to avoid.
Melissa stirs the heart with insight using the analogy of pineapples and people and provides solid details of what kids are faced with today. Their lives are messy, undisciplined, and often devoid of love.  However, she believes that kids can change the world. Why? Because she's seen it first-hand.
While I have never met Ms. Mel personally, after reading this book I couldn't help but think of her as a Velvet Hammer. The Urban Dictionary says it best, "The Velvet Hammer is a woman leader who can manage with grace and eloquence and still get things done. She's tough, fair and brilliant. She is also very beautiful and probably will save/rule the world one day."
So here's your mission, should you choose to accept it. Pick up this book and give it a read. Than share with us how it's moved, changed and/or inspired you to look at your ministry and the "4-14" Window differently.
To learn more about KidCheck's secure child check-in system, safety tips, and best practices visit the KidCheck blog or connect and share with us on Twitter, Facebook, Google+, or Pinterest.