Bus Ministry and KidCheck's Secure Child Check-In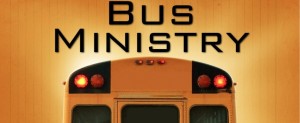 Running a bus ministry and instituting the appropriate child safety elements and procedures comes with its own unique set of challenges. One important step, which is addressed here, is implementing a secure children's check-in system to use with your bus ministry.  For child safety, completing a secure check-in and tracking attendance is a must; maybe even more so when it occurs outside of the traditional process in the facility.
For additional general safety tips and best practices beyond check-in that can be applied to a bus ministry, check out KidCheck's Improving Child Safety video and PDF guide.
 Bus Ministry and Easy Mobile Check-In
KidCheck's mobile check-in app and PrintHub printing solution provide a great option for bus ministry check-in. The mobile check-in app provides the added flexibility of using a 4G/LTE tablet device to check the children in, right there on the bus.  Then with KidCheck's PrintHub, which provides direct printing from the check-in tablet to the label printer (without a computer), name badges will be printed and waiting at your facility when the kids arrive.  Voila, a quick and easy solution.
Check-In Without Internet Access
While a mobile check-in solution is efficient and easy, if that doesn't fit your plans, here is an alternate, more manual suggestion:
Use a hard copy report listing the children in the bus ministry. Run KidCheck's "Self Check-in List" report each day based off the template and/or location you have set up for the bus ministry. This generates a hard copy list of the children you expect to check-in, so it's ready to use when you start the route. The report lists each child and their unique associated bar code.
Be aware, children will not show up on this report until they have checked-in at least once. The report is based on actual check-ins, not the creation of check-in accounts. Therefore, to begin the process with this report, you'll need to check-in the appropriate kids first.
Track the children getting on the bus by marking them on the report. Use the same report to mark off each child as they leave the bus or check out of the program.
When you get to your facility, bring the report to your check-in station and use the report bar codes to process the check-in into the system. Or use the 10 digit phone number to check them in. This way you enable the security measures of having them checked into the KidCheck system.
Depending on your check-out process, if you wish, you can scan the bar code to check them out as well.
Limited Parent Involvement

Whether with a bus ministry or a traditional check-in scenario, it's necessary to ensure family accounts are set up and ready to safely check children in. Next week, we'll share suggestions on how to approach the situation of a parent(s) who may not be highly involved in setting up their family account.
To learn more about KidCheck's feature rich, secure child check-in system, and best practices, visit the KidCheck website or join us on Twitter, Facebook, Google+, or Pinterest.
#kidmin #fammin #youthmin #checkin #churchsafety #church #pastor #ministry