Bus Ministry and KidCheck's Secure Child Check-In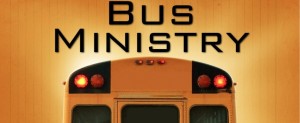 Running a bus ministry and instituting the appropriate child safety elements and procedures comes with its own unique set of challenges. One important step, which is addressed here, is implementing a secure children's check-in system to use with your bus ministry.  For child safety, completing a secure check-in and tracking attendance is a must; maybe even more so when it occurs outside of the traditional process in the facility.
For additional general safety tips and best practices beyond check-in that can be applied to a bus ministry, check out KidCheck's Child Safety Resources.
Bus Ministry and Roster Check-In
Roster Check-in is perfect for bus ministry for fast and easy check-in and out based on roster lists you create. Rather than paper and a clipboard, utilize a real-time digital roster to check kids in as they arrive from the bus and depart back on it. Check kids in/out individually or all at once using a tablet, smartphone or computer. You create the list(s) of kids you are expecting providing an easy at-a-glance roster to then use to check kids in/out with the touch of a button. New child shows up? Great, you can easily add them to your roster list. Name badges can  print via the KidCheck ExpressHub which provides direct printing from the tablet to the label printer, without needing a computer. Roster Check-In is a faster, easier, safer solution for bus ministry.
Limited Parent Involvement
Whether with a bus ministry or a traditional check-in scenario, it's necessary to ensure family accounts are set up and ready to safely check children in. Here are some suggestions on how to approach the situation of a parent(s) who may not be highly involved in setting up their family account.
To learn more about KidCheck's feature rich, secure child check-in system, and best practices, visit the KidCheck website or join us on Twitter, Facebook, Google+, or Pinterest.
#kidmin #fammin #youthmin #checkin #churchsafety #church #pastor #ministry