Comprehensive Candidate Screening – The Social Media Check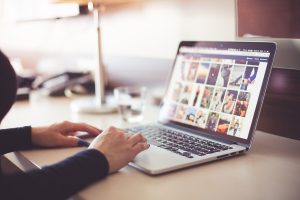 This post continues the discussion on the seven elements of a comprehensive screening process and discusses item number three, the social media check.
To do or not to do a social media assessment, that is the question? Let's explore the benefits and some of the ethical and legal considerations when using a social media background check as part of a comprehensive candidate screen.
Social media is a valuable resource for learning more in-depth information about individuals looking to work directly with children. In many cases, it helps to identify if someone is the right fit and can provide information not often shared on the written application or during the interview. Nevertheless, as social media becomes more pervasive in our culture, there is a concern about privacy rights.
Pros of Using Social Media
Social media can be an important tool for getting a glimpse into a candidate's life. Information shared socially often appears to be unfiltered and more representative of an individual's character, preferences, and skills. It may uncover additional talents not mentioned in other evaluation activities such as the interview or written application. For example, if a person speaks another language or plays a musical instrument, those can be skills that can be leveraged when working with children. Also, social media can also uncover issues that are important to take into consideration.
Challenges of Social Media
On the flip side, even though personal content posted on social media is in the public space, it gets tricky when people have their accounts set to private. When someone sets their account to private, it means that only "friends" on that particular social platform can view content or posts. That means the organization doing the interview cannot view it. Some organizations have gone as far as to friend the applicant or request login information to view the material. This practice is frowned upon as social media platforms have Terms of Use and Privacy Policies that aim to secure and protect their participant's profiles.
Recently, backgroundchecks.com shared, "Some states have made social media searches illegal. Arkansas, California, Colorado, Delaware, Illinois, Maryland, Michigan, New Jersey, Utah and Washington all prohibit employers from requiring applicants and employees to provide their social media usernames. Prohibiting the easiest way to correctly identify if information posted belongs to the individual in question."
Also, it has been it has been proven that sometimes information on social media is inflated, misrepresented or even fabricated to make a person appear to be something that they're not, or in support of actions they've never actually done. When this happens, it opens the door for a negative impression.
Six Tips for an Effective Social Media Check
There are still several good reasons to complete a social media check. The result is to get as much benefit as you can and minimize the risk to your organization.
Here are six tips to get the most from your social media check:
Include a social media "Release of Information" form with the written application, which authorizes the organization to obtain and verify applicant information as it pertains to social media activity.
Consider having a qualified third party perform the social media screen. Companies who specialize in this type of audit are familiar with the laws of your state and will be able to provide the appropriate information.
Never ask for an applicant's password. It's now illegal in several states and creates a risk of violating the federal Stored Communications Act.
Focus only on information that is public and posted by the applicant.
Be consistent. If you're checking social media for one person, be sure to check for all.
Complete the social media check after the face-to-face interview. It's better to form a first impression in person rather than via social media.
Social media is new ground to cover for most organizations and applicants. Many people have now grown up communicating via social media. Plus the fact that it's a growing trend for most organizations prove it has staying power. Using social media as a point of reference for evaluation is going to be around for the foreseeable future, which means it's worth it to take the time to incorporate it into a comprehensive candidate screening process. Just be aware of the challenges and legal aspects.
Keep checking back as we'll continue to discuss the remaining four elements of conducting a comprehensive candidate screen.
Click here to learn more about the benefits of secure children's check-in or join us for a free demo. We also invite you to visit the KidCheck blog or join our growing community on Twitter, Facebook, Google+, Instagram, and Pinterest.