Mobile Check-In On a Whole New Level – A Customer Solution Story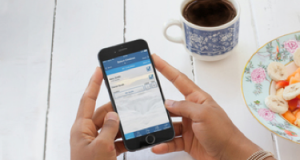 "Children's check-in is the front door to your organization and has a huge impact on a new family's decision to return. Directors need to know that people don't typically return if they've had a bad check-in experience. It's a deal breaker." Dee Cobia, Vintage Church Los Angeles.
Even with a check-in process in place, challenges can still exist including congestion and long check-in lines, a lack of efficiency, and parents who are frustrated or simply won't engage in the check-in process.
A check-in system can be less efficient when it's tied only to a fixed station. Incorporating a mobile component, which allows parents to check children in with their own device, along with the traditional setup creates an increase in flexibility, efficiency, and time available to connect with new and returning families.
This week we're featuring, "Mobile Check-In On a Whole New Level," a solution story about the benefits of using KidCheck's Express Check-In. If you're not familiar with Express Check-In, it allows parents to check-in their children using their own personal mobile device. Those organizations who have utilized the capabilities of Express have reduced check-in lines, improved efficiency, and increased parent satisfaction.
Click here to read the entire solution story and see what other organizations are saying about their experience with KidCheck Express Check-In.