Building a People-First Culture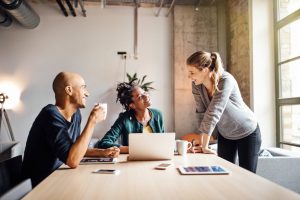 Workers want outstanding leadership. Research states, happier staff and volunteers work harder to achieve overall goals. A people-first culture is not only a terrific approach to leadership but also easily adopted into most organizations. It is an excellent way to build trust, increase worker satisfaction, and positively impact those you work alongside.
But wait, isn't this approach counter-intuitive? Does this suggest there are benefits to putting your people before those you serve? It is a resounding "YES" to both questions. Prioritizing volunteers and staff is the surest way to achieve outstanding customer service, committed employees, and long-term volunteers, all of which contribute to overall success. Some would say a people-first culture is one of the most fundamental and often overlooked requirements to building a thriving organization.
So how do you create a people-first culture? Here are five tips to get you started.
Seek leadership agreement.
Building a people-first culture is not a set of randomly occurring activities; it is a way of leadership that should permeate every aspect of your culture. This means frontline and senior leadership across the organization, including board members, should support the effort, and policies should align to support a people-first culture. Everyone should answer how the organization defines a people-first culture and why it is a focus.
Take feedback seriously.
To get the pulse of your organization, it is best to do an anonymous survey and, once it is complete, follow up on the feedback. Once you have the data, discuss it with all staff and volunteers. This will help to ensure feedback is incorporated into the policy, which helps to support the culture.
Focus on training.
Focus and include information on the people-first culture during the onboarding of new staff and volunteers. This will help them to align their personal goals with the philosophy or vision of the organization. In addition, consider adding success stories about the people-first culture and how it inspired or encouraged a higher service level or volunteer longevity.
Meet with staff regularly.
Having a solid relationship with staff and volunteers is essential to increasing engagement in the person-first culture. Meeting consistently with staff and volunteers helps them understand what is expected of them and provides clarity on their performance and how it aligns with the organization's overall success. Encourage open dialogue and be willing to discuss areas of improvement.
Recognize and celebrate performance.
This is important! Most people are motivated by praise and recognition. Recognizing a job well done or a service level that exceeded expectations communicates to staff and volunteers that their time and effort are seen and appreciated.
Lead by example.
Actions speak louder than words and often have more weight when consistently observed by staff and volunteers. Think of it as directing others through your behaviors and inspiring them to follow your lead as you work towards a common goal with purpose and intention. Simple things such as stepping on the frontlines and getting your hands dirty, watching what you say, listening to others, trusting your team with decisions, and taking responsibility are a few ways in which to lead by example.
Click here to learn more about the benefits of secure children's check-in and how it can help your organization attract new families, improve child safety, and balance workload.
Join our growing social community. You can subscribe to the KidCheck Blog or find us on  YouTube, Twitter, Facebook, Pinterest, and Instagram.