Keep Calm and VBS On!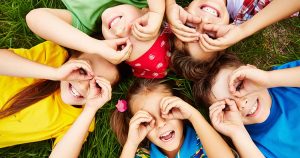 Creating a Staffing Plan and Choosing Volunteers Wisely
Vacation Bible School (VBS) is ramping up, and organizations across the country are getting ready to kick off their biggest children's outreach event of the year. For child safety, this can be a blessing and a challenge. By prioritizing child protection, you put new families at ease, offer peace-of-mind, and support the fact that they're leaving their kids in good hands.
A crucial part of creating a successful event that prioritizes children's safety centers on volunteers. They are the backbone of any such event and are often hard to find. Nevertheless, it's extremely important to have a staffing plan that focuses on safety.
Here are some elements to consider when creating a staffing plan for VBS.
Work with people in your organization that can help determine a list of potential volunteers. The list might come from sources such as existing Sunday school roster, family or friends of current employees, volunteer referrals, LinkedIn connections, etc. People know people, so don't be afraid to ask.
Create a high-level staffing plan that outlines in detail roles and responsibilities, identifies the organizational structure responsible for supporting each age group, and provides as much detail as possible about what a volunteer will be doing. This plan is also the key to helping to identify if someone is a good fit for working directly with children.
Start recruiting a small set of core volunteers as early as possible. Depending on the size of your event, this group will fluctuate. "Core" refers to those who will play a central role in the event and who will work directly with children. They should be comprehensively screened first, able to answer event questions, execute and manage all functions, and be your eyes and ears in the places you're unable to be all the time.
Once your core team is set, you can assign someone the task of screening the remainder of the volunteers with the same evaluation process they completed. The process should be consistent for anyone interacting with children.
Establish a relationship with both new and old volunteers so they will want to return next year. You'll have less recruiting to do and more knowledge about the individuals serving the kids.
We will never eradicate all abuse, and it's hard to know if anyone is 100% safe. However, investing some time in designing your staffing plan for safety will minimize risk and help to identify if someone is not a good fit for your event. Volunteers feel more successful when they know what they're signing up for and what is expected of them. Minimizing the grey area of interacting with kids during VBS puts everyone's mind at ease and frees up volunteers to better serve the children.
For more information on additional safety-related topics join our growing social community on Twitter, Facebook, Pinterest, and Instagram.
Click here for more information on the benefits of KidCheck secure children's check-in or to schedule a free online demo of our product.