KidCheck and Au Fudge Partner to Keep Kids Safe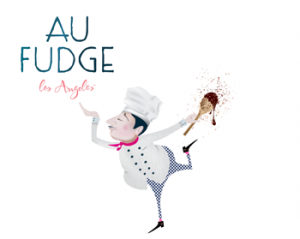 What do secure children's check-in, grilled cheese sticks, and monkey bread have in common? They can all be found at the trendy LA eatery Au Fudge, (pronounced "oh fudge" and not "aw fudge"). Au Fudge is located in West Hollywood, the center of all that is fashion and haute couture; it's a busy enclave for designers, artisans, and those looking for unique and original cuisine.  It is the brain child of a merry band of celebrity movers and shakers.  So why would this new LA hotspot care about child safety? Aren't most businesses in venerable, fashion forward areas looking to minimize the presence of children?
It turns out Au Fudge is taking a bold new approach to the classic family friendly restaurant. They're shifting the paradigm from scenery that's loud and filled with the buzzing of tokens being slipped into game machines, menus that include food comprised mainly of ingredients created in laboratories, and large creepy stuffed animals that incite fear and trembling in children.
Au Fudge has designed a space that promotes a creative community for all ages, while keeping its focus on offering a healthy, unique, dining experience that caters to both.  Included in the children's Creative Space is a spiral staircase adorned with glitter and a secret library door that leads to a classroom for special classes & events. Most notable is the attention that's been given to child safety, which includes the following guidelines:
The entry and exit doors to the creative spaced are locked during business hours.
Use secure children's check-in that requires before being admitted into the Creative Space all children must have their photo taken and be in the KidCheck program.
Utilize childcare professionals (Au Pairs) to watch and manage the children.
Clearly state what the Au Pairs roles and responsibilities include – example Au Fudge calls out they will not change diapers, take children to the restroom, provide food, or administer any medication.
Define age requirements and identify children under the age of 2 must be accompanied by an adult/guardian.
Have windows installed that allow parents to look in at any time and observe the activity.
State the creative space capacity which is no more than 30 kids at a time.
Have parents manage bathroom activity: either staff can bring the child to the table or the parent may knock on the door to pick up and take the child to the bathroom.
Au Fudge clearly wants its patrons to enjoy their dining experience and they are smart enough to know that by welcoming and protecting children they're gaining customers for life.
For more information on improving child safety and the benefits of using secure children's check-in visit the KidCheck blog, or join us on Twitter, Facebook, Google+ or Pinterest.
#checkin #childsafety #aufudge